Today is the day you are going to change the way you think. I am going to use my persuasion to get you to at least try this next recipe.
*In my most hypnotic, smooth, and calming voice…*
"You will attempt to bake something with yeast in it."
"You will not be afraid of baking with yeast."
"You will bake this French Bread and have great success with it."
Did it work? For those of you who totally avoid baking with yeast, trust me, I know how you feel. It can be scary trying to get the water temperature just right, and then having to knead and wait for the rising process. But, trust me again, you can do this! I found the recipe here.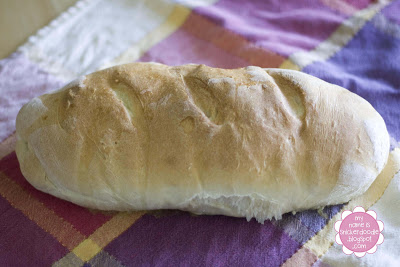 French Bread
2 ¼ c. warm water
2 T. sugar
1 Tbsp yeast
1 Tbsp salt
2 Tbsp oil
5 ½ -6 cups flour-stirred before measured
First dissolve sugar and yeast in the warm water. Let this proof—or sit for a few minutes until it bubbles. Then add salt, oil and 3 cups of flour and beat well (At this point I switch to my dough/kneading attachment on my Bosch mixer) Add in 2 1/2 -3 more cups of flour. The dough should clean off the sides of the bowl and not be too sticky. Knead for a few minutes. Leave the dough in the mixer to rest for 10 minutes and then stir it down (turn on your mixer for 10 seconds) and then allow to rest another 10 minutes. Repeat for a total of 5 times. Then turn dough onto a floured surface and knead it 2 or 3 times to coat with flour. Divide into 2 equal parts. Roll each part into a 9×13 rectangle. Roll dough up, starting from long edge of loaf to seal. Arrange seam side down on large baking sheet that's been sprinkled with corn meal, allowing room for both loaves. Repeat with second part of dough. With a sharp knife, cut 3 gashes at an angle on the top of each. Cover lightly; allow to rise 30 minutes. Brush entire surface with egg wash (one egg beaten slightly with 1 Tbsp of water). If desired, sprinkle with sesame seads. Bake for 30 minutes at 375. Cool on racks
NOTE: For a crustier loaf, a pan of hot water may be set on bottom of oven while bread is baking.
*HEAVEN!!! I think it's best when it has cooled slightly, with butter and homemade jam! The next time I make it I am going to try to incorporate this recipe with it.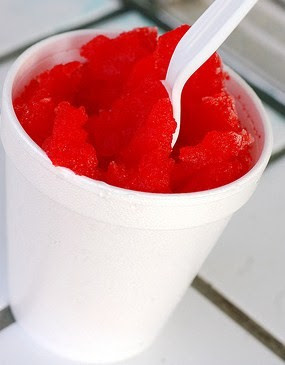 And as for a dessert recipe, I have none to share with you at this time. So in the meantime, treat yourself to a sno cone…summer is almost over! Heck! Get yourself a large on me!