I am not adventurous when it comes to food. I pretty much stick to things that I know I will like (I was a really picker as a kid and now I am just partially picky.) So I took myself by surprise when I saw this recipe (found here) and had a desire to try it out. I am sure it's not authentic by any means, but it's really tasty. I think kids would even eat it for it's peanut butter flavor. Don't let the long list of ingredients fool you that it is hard to make! Read on after the recipe for my alterations…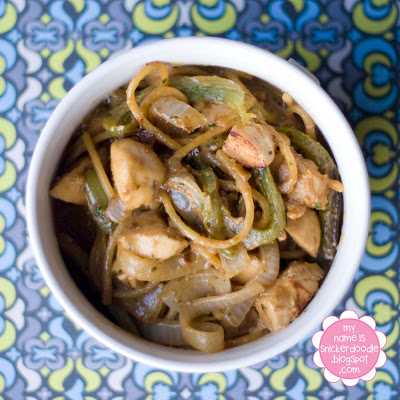 Thai Chicken Peanut Noodles
1 lb whole wheat thin spaghetti noodles
2 Tablespoons sesame oil
1 garlic clove, peeled
1 (1 inch) piece of fresh ginger, peeled
½ Cup smooth peanut butter
¼ Cup soy sauce
2 Tablespoons brown sugar
1 Tablespoon rice vinegar
1 scant teaspoon crushed red pepper flakes
1 Cup hot water
2 Tablespoons extra virgin olive oil
½ Cup finely chopped white onion
½ Cup finely chopped red or orange bell pepper
2½ – 3 Cups cooked, shredded chicken breast
¼ Cup finely chopped cilantro leaves
1/2 teaspoon salt, or to taste
¼ Cup dry roasted peanuts, chopped
2 Tablespoons sesame seeds (I just sprinkle some on top)
Set water to boil and cook noodles according to package. Meanwhile, prepare the sauce. Place garlic and ginger in food processor or blender until well chopped. Add peanut butter, sesame oil, soy sauce, brown sugar, vinegar and red pepper flakes. Pulse until well combined and slowly add hot water. Set aside. Place olive oil in hot skillet over medium heat. Saute onion and bell pepper for 5 minutes or until softened. Stir in chicken breast, cilantro and salt. Stir until heated through then take off heat. Drain noodles (do not rinse). Add sauce and noodles to chicken mixture. Toss to coat and garnish with peanuts and sesame seeds if desired.
**I only had plain ol' spaghetti noodles, but if you want a little more fiber, use the wheat noodles. I also did not have any fresh ginger so I substituted with 1/2 tsp ground ginger. Just chop your garlic then add the ginger with the other sauce ingredients. Green bell peppers where cheaper, but next time I will go with red to add some color to the dish.
I wouldn't consider this next recipe a dessert, but it's something sweet and somewhat healthy (if you don't add in as many chocolate chips!) I made a batch and froze half of them for future breakfasts and snacks. Originally recipe found here and I altered mine a bit.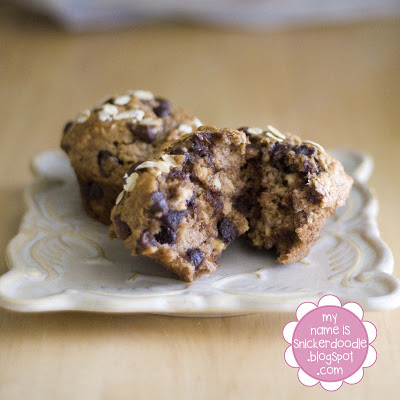 Chocolate Chip Oatmeal Banana Muffins
1 1/2 cups flour
1 cup sugar
1 tsp soda
1/2 tsp salt
1 tsp nutmeg
2 tsp cinnamon
1 egg
3/4 cup applesauce
2 cups smashed ripe bananas
1 1/3 cups oats
1 pkg chocolate chips (I used milk)
Mix sugar, applesauce, bananas and egg together. Stir in flour, oats, soda, salt, nutmeg and cinnamon until well blended. Fold in chocolate chips. If using paper cups, place them in muffin tin. If not, spray with cooking spray. Fill muffin tin 2/3 full. Bake 350º for 15 minutes or until centers come out clean.