I won't even mention to you how many food blogs I read. If only I could get paid to sit in our charming yet uncomfortable computer chair, ignore my kids for short periods of time (you all know what I'm talking about) and just read blogs all day long like I already do would. I have a ton of different chocolate chip cookie recipes. All different kinds of bread and roll recipes. So why would I think I could just settle for just one tortilla recipe. I found this one recently (her blog is superb) and knew it had to be good because her other recipe I tried is definitely a keeper.
If you've never had a homemade tortilla, you are missing out. I actually have a really hard time eating store bought tortillas now…I've become a flour tortilla snob. Pair these up with sweet chicken tacos, chicken fajitas, chicken quesadillas, beef tacos, or beef taquitos.
Homemade Tortillas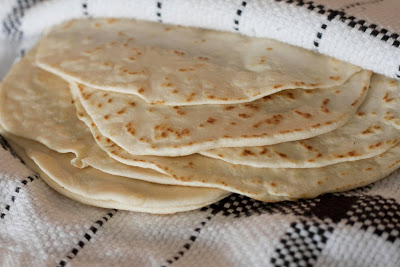 2 cups flour
1 tsp baking powder
1/2 tsp salt
5 TBSP vegetable shortening
3/4 cup hot water
In a medium bowl whisk together flour, baking powder and salt. Add in shorting and, with your fingers, cut into flour mixture until it resembles small pea size pieces. Stir in hot water and mix until combine. Knead on a lightly floured surface for 5-10 minutes until dough is smooth and elastic. Form into a ball and place back in the bowl. Cover with a dish towel and let it rest for 10 minutes. Divide dough into 8 balls (originally recipe calls for 12 pieces, but I like mine a little bigger). Place the balls back into the bowl and let them rest for another 20 minutes. Preheat your pan on high heat. Lightly rub your rolling pin with flour. Roll out each ball until thin (until you can see some of your counter top around the edges.) Place a tortilla on pan and cook until it starts to bubble up a bit. About 30 seconds. Flip and cook for another 30 seconds. Repeat with remaining dough. Keep tortillas fresh and hot in a dish towel or tortilla warmer.