This is the meal I made for my family on Valentine's. Hence the heart shaped pepperoni. But hearts are just for one holiday! I think the shape just adds that extra touch of love. Oh, by the way, we LOVED this meal because it was so delicious!
Chicken Parmesan with Pepperoni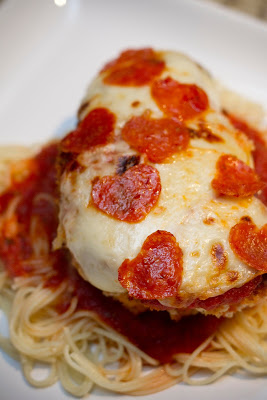 Inspiration found here: Pink Parsley
4 boneless, skinless chicken breasts
2 eggs
1/4 cup milk
1/4 cup flour
1 cup breadcrumbs
1/2 cup Panko crumbs
3/4 cup grated Parmesan cheese
1/4 tsp pepper
olive oil
1 jar favorite marinara sauce
1 lb spaghetti or angel hair pasta
1 1/2 cups shredded mozzarella
24-30 pepperoni slices
Preheat oven to 375°. *Pound chicken until about 1/2 thick.* Drizzle about 2 TBSP oil in a large pan and heat to medium high heat. In a bowl whisk together eggs and milk. In a shallow dish combine breadcrumbs, panko crumbs, Parmesan cheese and pepper. Dredge chicken in flour and shake off the excess. Dip in egg mixture and the completely coat in crumb mixture. Place in pan and brown on both sides. About 2-3 minutes each side. Place browned chicken in a 9×13 pan and cook in preheated oven for about 12-15 minutes or until your chicken is no longer pink in the center. While your chicken is cooking, cook noodles according to package directions. Also heat your sauce through (either on the stove or in the microwave). Using a small cookie cutter, cut out shapes from the pepperoni. You can also use the negative to top your chicken with. Set aside. Once chicken is cooked through (do not over cook) remove from the oven. Place about 1/4 cup warmed sauce over chicken breast and top with mozzarella cheese and pepperoni. Place back in the oven and cook for another 2-3 minutes until cheese is melted and slightly golden brown in spots. Serve hot over noodles and sauce.
*I did not pound out my chicken (in the picture above) because I was lazy and it took forever to cook through. Pounding out your chicken until it is even thickness ensures fast and thorough cooking. Place your chicken in a large baggie and pound it down using the flat side of a tenderizer or a rolling pin. So don't be lazy like I was!