Over a year ago I started to watch the cooking show "Mad Hungry" with
Lucinda Scala Quinn. I couldn't get enough of her great recipes and
even more fabulous tips and tricks.
I'm a super fan of any and all roasted chickens so, when I got a hold of one of her cook books, I knew this was the first recipe I wanted to try. It's been my favorite ever since!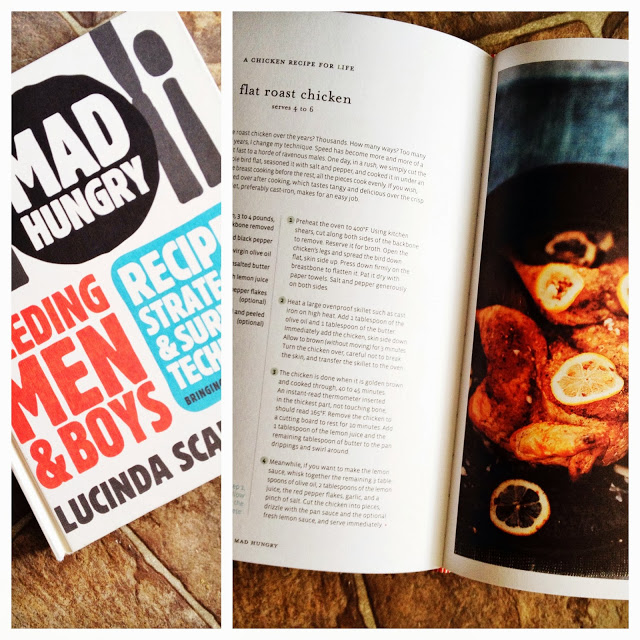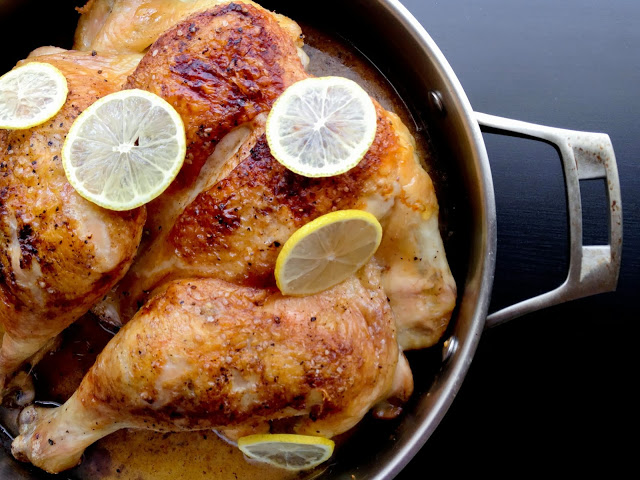 Flat Roast Chicken with Lemon Sauce
Adapted from Lucinda Scala Quinn
1 Whole Chicken, 3-4 lbs
Salt
Pepper
2 1/2 TBSP extra virgin olive oil
2 TBSP butter
2 TBSP fresh lemon juice
1 garlic clove, smashed and peeled
Preheat the oven to 400. Using sharp kitchen shears, cut along both sides of the back bone and remove. Open the cut side towards the counter and press firmly down on the breastbone to flatten it. Pat it dry with paper towels and generously sprinkle with salt and pepper.
Heat a large ovenproof skillet on high and add 1 1/2 TBSP of olive oil and 1 TBSP butter. Add in the chicken, skin side down. Allow to brown, do not move it, for about 3-4 minutes. Turn the chicken over. Be careful not to break the skin. Transfer to the oven.
Cook chicken for 40-45 minutes or until chicken is cooked through and juices run clear when pierced in the thigh. Remove the chicken to a large plate or cutting board and allow to rest for 10 minutes.
To make the lemon sauce, add the remaining 1 TBSP olive oil, lemon juice and garlic to the pan and scrap up any bits from the bottom. Cook on medium high for 1 minute. Remove from heat and discard smashed garlic clove. Melt in 1 TBSP butter and serve immediately.
*My chicken was almost 6 lbs so I cooked it for 1 1/2 hours.