The cook off was scheduled for the second day in Savannah. At first I was nervous about it being so soon, but when it came down to it, I was so grateful they got it out of the way at the beginning of the trip.
Every category was doing their own individual cook offs so us dessert girls weren't being picked up until later in the afternoon.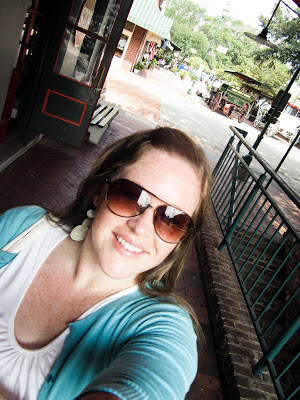 I had all morning to just relax so I walked around historical downtown Savannah and shop.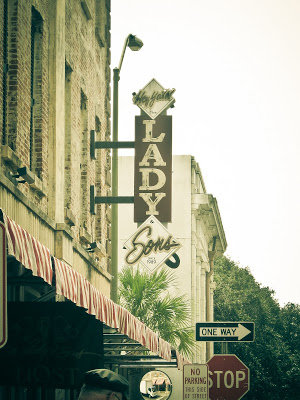 I knew we were going to The Lady and Sons that night for dinner, but I had to see it for myself first and capture a shot!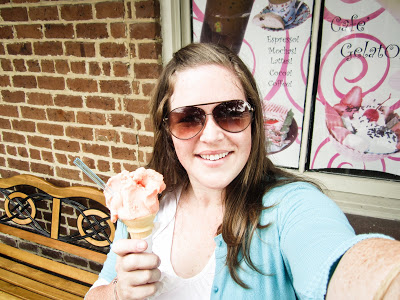 It got really hot so I treated myself with a yummy gelato!
I got back to the hotel and took my time getting ready for the cook off. I tried to memorize my recipe a few more times and just stay calm. Yeah right!
Once we arrived at the Meddin Studios we were surprised with aprons that had our names embroidered on them!
KC was the Season 1 Dessert Host and encouraged and cheered us all on while we were waiting around getting pictures and interviews done.

I felt like a giant because I towered over EVERYONE! Rethinking wearing 5 inch heels!
Rebecca and I connected on a sisterly level and I absolutely adore how fabulous she is.
I got my make up and hair touched up by the fabulous Jules (owner of Dollface By Jules) and I felt so glamorous!

We then had our still pictures taken with our aprons on.
I took the chance of looking like a complete weirdo and took a pic of Josh (the photographer) and he was completely taken off guard! I think he took it as a complement, though (I hope!)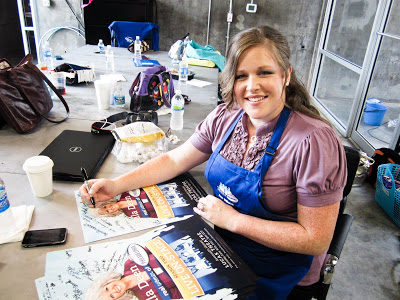 Then all 16 finalist got to autograph some Live Even posters. It was such a surreal and special moment for me. They were later passed out to each of us and mine is now framed and hangs with my collection of A's.
All four of the wonderful dessert finalists! We all got to hang out at the studio for a few hours before the actual cook off while we waited for the entree finalist finish their cook offs. It was such a huge honor to be in the same category as them. (Make sure to check out Heather's Food Blog (sooooo good) and Rebecca's humor blog (HILARIOUS!))
Right before the cook off, Bobby (from Eqal) came out to debrief us on what would happen!

At this point, time had no meaning. I kept my cool, but I was completely nervous once we stood on the stage where everything would be happening. We had seen Paula on and off all afternoon so I knew we would see her again once the cook off begin.
I have no pictures from the cook off…because I was cooking! But you can check out a short video clip of it here. By the way…that bowl was for me!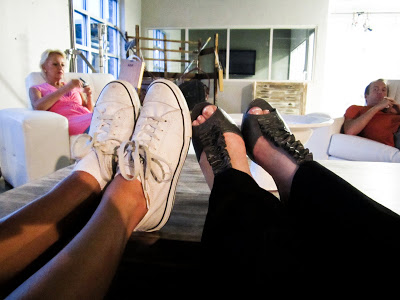 Here Rebecca and I are kicking up our feet while we waited to be judged and have our last interviews done. The judging was the most comfortable I felt all day. It sounds a little weird saying that, but all of the judges just made you feel at ease. A funny story about the judging that wasn't in the clip. Matt (the director) told me to take my mark, state my name and where I am from. Once he said, "Action!" Miss Paula said, "Mmmmm, mmmmm! Oh, Amy these are simply delicious!" Matt called cut and reminded me that I needed to introduce myself. I didn't say it, but I thought, "I am not about to interrupt Paula Deen!"
We were supposed to meet up with everyone for dinner at the Lady and Son's, but we were running late and didn't get there until 10 minutes before they closed.
As we walked in we were greeted with happy screams and hugs all around from the other finalists. These group of ladies were extraordinary! Drama free and full of love for one another. A sisterhood of sorts because we were all experiencing the same adventure together. We got to go boxes of The Lady and Sons super delicious food. Once back at the hotel, I took of my heels that I had been wearing for 10 hours at this point and chowed down my dinner in bed. I had reflected on the fact that I had just been judged for my personality, my recipe, my marketability and my likability! Now I know that every judges you in real life for one thing or another, but I never have had a score attatched to those judgments! I felt okay at the point about the whole thing, but I didn't think I was going to win by any means. I had some very tough competition!