Day three in Savannah, I woke up refreshed and good about the cook off! I was convinced that I didn't win the cook off, but already won as a finalist! This day was tour day.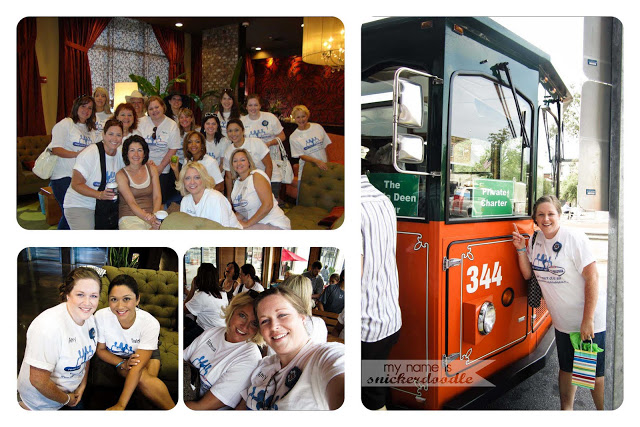 We were all taken on the Old Town Trolley tour trolley and our driver Denise was a hoot!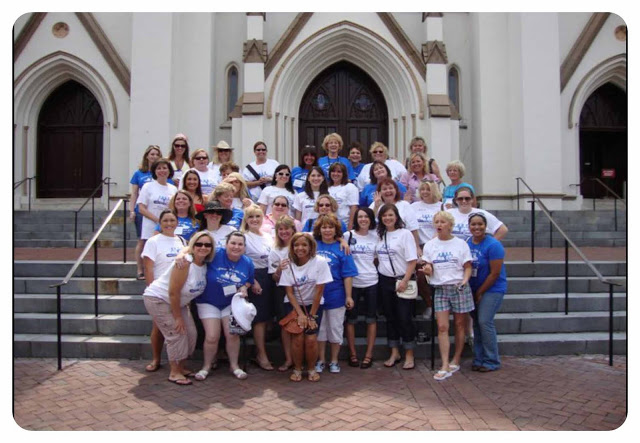 Towards the end of the tour we were surprised to meet up with just some of the other RWOP ladies who came from all across the country just to be part of the live event! They (in the blue shirts) all won special treatment while in Savannah and the tour was just part of it!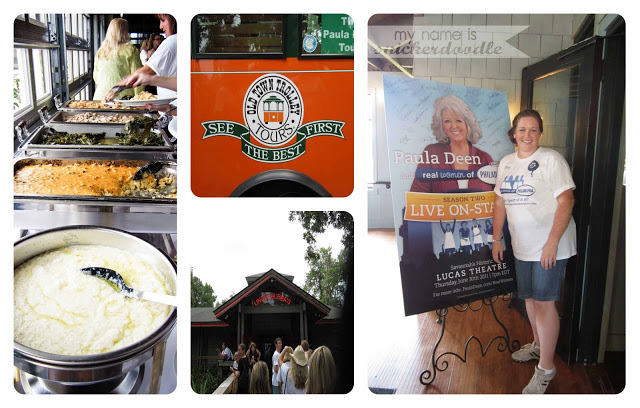 The tour then took a turn to Uncle Bubba's Oyster House (Paula Deen's brother). The buffet was very southern and very delish! All of the finalists got to sign that poster that greeted us in the hotel lobby!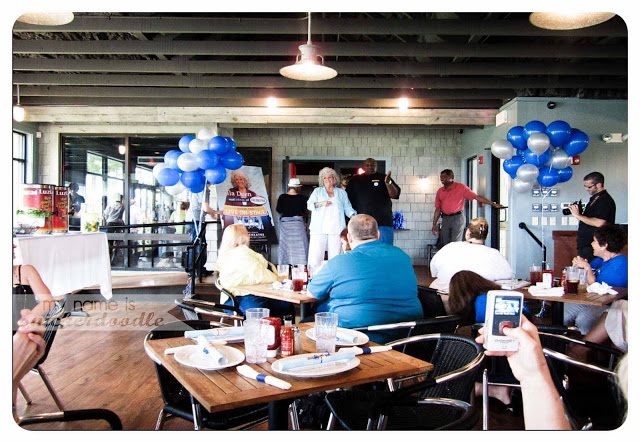 While we were eating lunch, Paula came to surprise us again! She came in and greeted some friends. Then she went into one of her famous pep talk/story telling modes and had us all captivated. She started to share some things about the cook off and had some of us (me) tearing up! I just couldn't believe that I was actually there experiencing it all!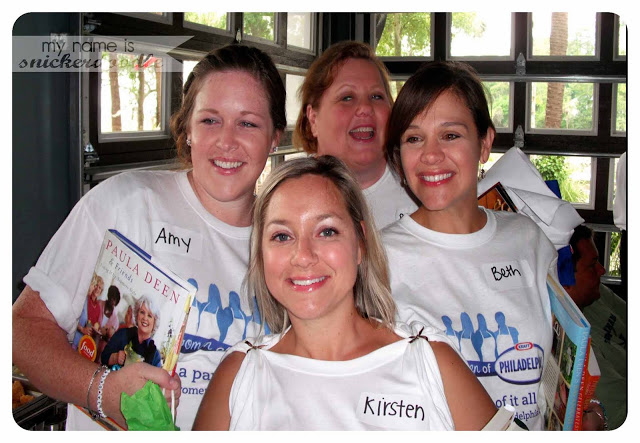 We all had an opportunity to bring some cook book for Paula to sign. I had the last minute thought to bring a Philadelphia Cream Cheese box for her to sign because this was it was all about!

I also brought a little gift for her and her grandson, Jack, from me and Liam. She loved it!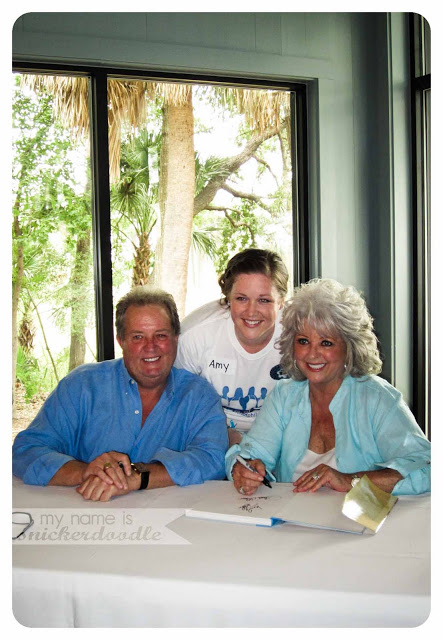 This was one awesome memoryt! She shared some things with me at the table in a few short moments that will stay with me for a lifetime!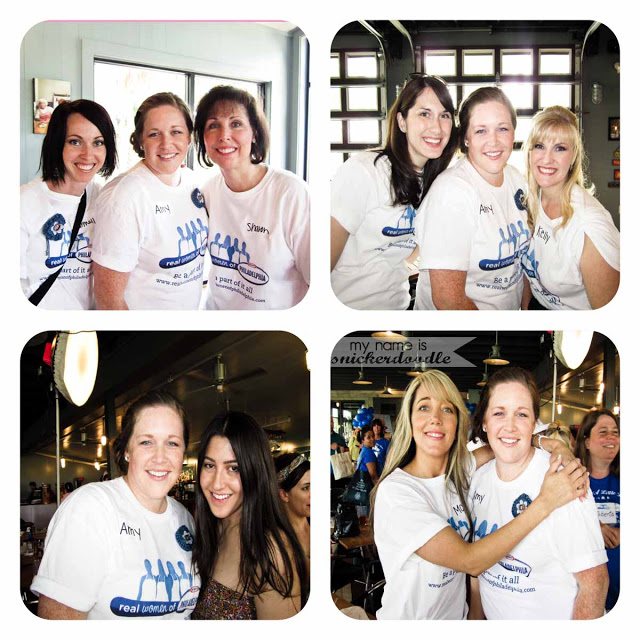 I had to get in some more pictures of everyone, of course!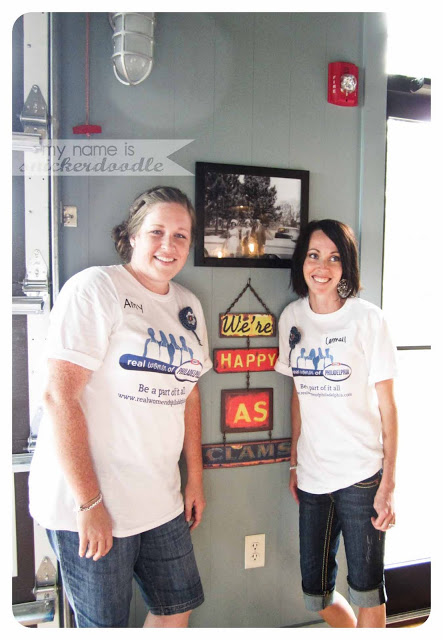 Carmell was one of my first friends I made on RWOP! Everyone loves her and I am no exception! This sign was a total reflection of how we felt!
Soooooo, the best part of the day I don't have a single picture of. We were asked to not take any pictures because it was such a special surprise. And also out of respect of the home owner…Paula Deen! All 16 finalists were taken to her house. HER REAL HOUSE! Not the one you see in her cooking show. It is breathtakingly gorgeous. I mean gorgeous. I was actually so overwhelmed with her life story (from where she came from and where she is now) that I was crying throughout most of the tour. Pathetic, I know! I even sneaked into the guest bathroom to grab a few tissues!
She was there for a moment and welcomed us to her home. Gorgeous, I tell ya!
If that wasn't enough we were then whisked away to her "cooking house". The one that you do see on her show.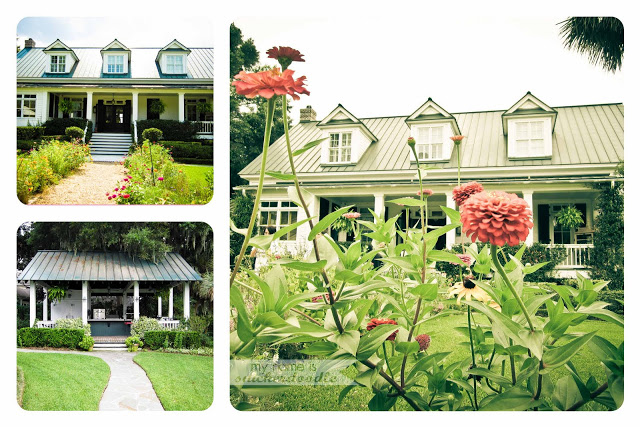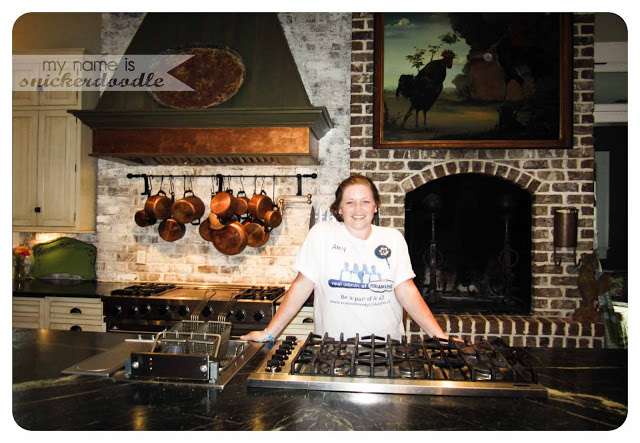 I was like a kid in a candy store! We could only stay a few minutes, but each of us got a picture in her famous kitchen!
The day was passing by quickly. It was already late afternoon so by the time we got back to the hotel, we only had about 2 hours until we had to be ready for dinner. Sharon, Kelly and I wanted to quickly head over to the Paula Deen store (less than a block away) to do some souvenir shopping. While we were shopping it started to rain. No big deal. Then it really started to pour! I mean buckets and buckets! By this time we only 1 hour until we had to be ready for dinner. Sharon suggested we wait it out, but I know how storms are in the south…they can last forever!

We braved the storm and in the 4 minute walk to the hotel, we were all soaked! I was holding all of Sharon's bags because she had some slippery flip flops on and was trying to hold an umbrella. Her paper bags got so wet that all of the contents fell out and almost into a huge puddle. I stayed behind and was trying to gather everything up. The storm was so loud that neither ladies heard me calling for them. I was drenched!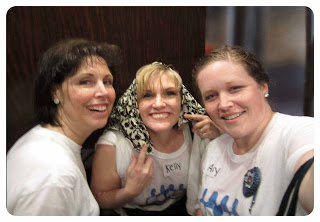 It's not a pretty picture, but it makes me laugh now that we were so soaked!

Once I got back to my room, I couldn't find my camera anywhere. I started to get that sick feeling because I had already taken so many pictures of this trip. PLUS we just bought it so I could have a nice point and shoot to take with me!

I had the thought that maybe it fell out of my bag while I was trying to gather all of Sharon's things off the wet street. I hoofed it back out into the the down pour. I retraced all of my steps and couldn't find it anywhere. I finally headed back to my room because I had exactly 20 minutes to get dry and ready for dinner.

When I got down to the lobby, I found out that I had accidentally put my camera in with Sharon's items and I was completely relieved that I didn't loose it!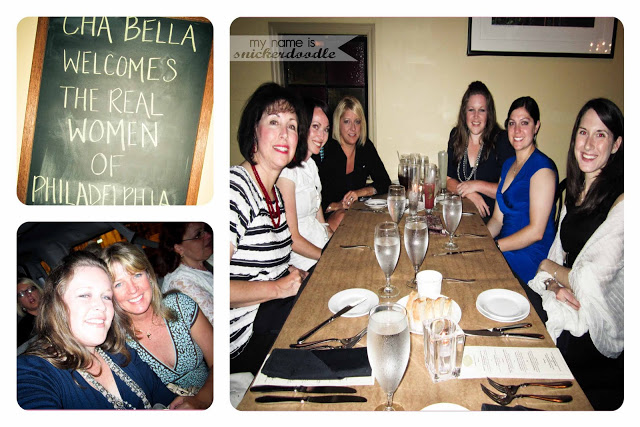 We had a great dinner and fabulous company! Everyone was sharing all of their individual experiences with the cook off, which we all found out that we all pretty much felt the same way. Glad it was over because it was pretty stressful!
to be continued…