We've got one more month where we can treat ourselves to everything pumpkin! As I've mentioned before I absolutely love to bake with pureed pumpkin and I love to use it at breakfast time. I made these Pumpkin Chocolate Chip Pancakes a few years ago and it's one of my favorite recipes! Maybe it's because I serve them with with an Orange Buttermilk Sauce!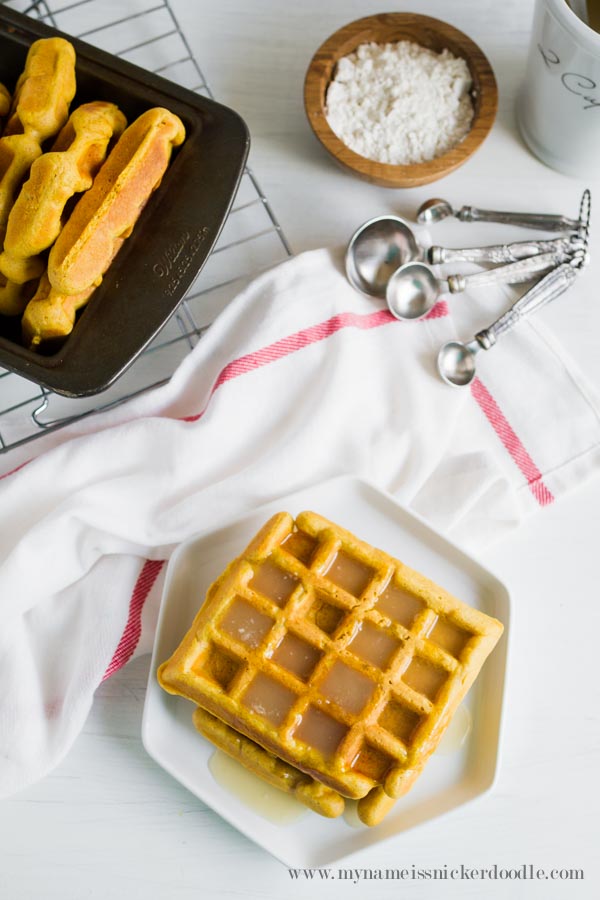 Waffles come in a close second to my family's favorite breakfast so of course I needed to give them a pumpkin makeover!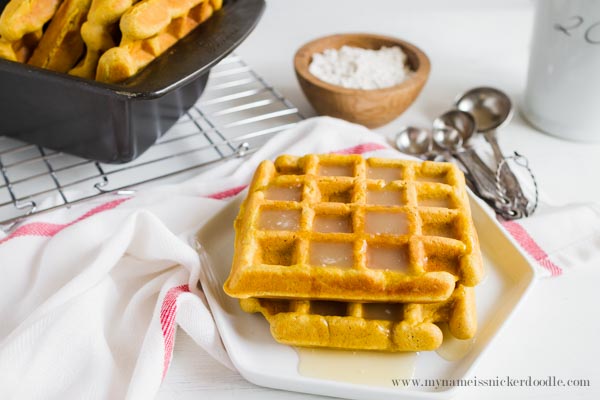 These waffles have a hint of pumpkin and all those yummy spices. It's then drizzled in cinnamon syrup that is to DIE FOR! It would be equally as great on pancakes as well!
Enjoy these on the weekend or make a big batch and have them all week long. Just make them!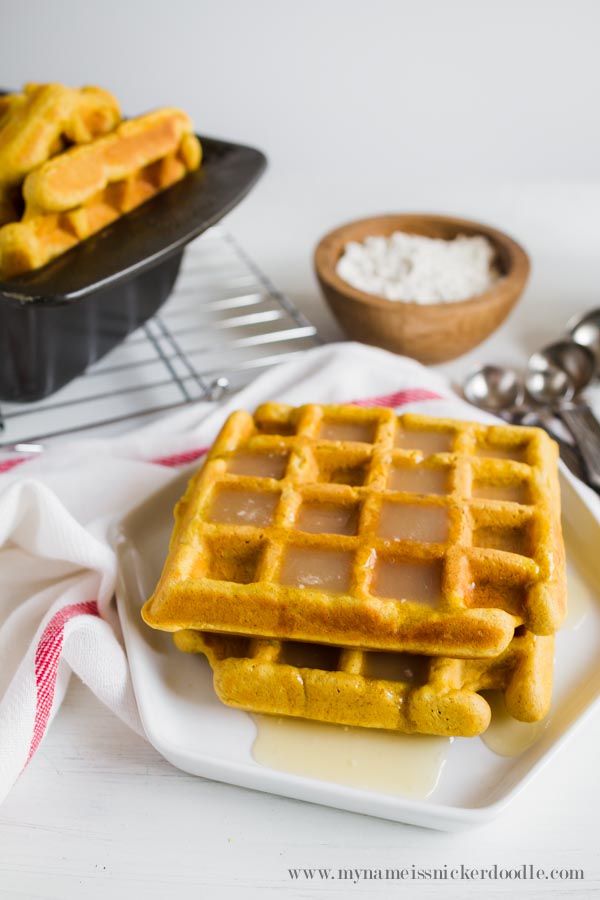 Pumpkin Waffles with Cinnamon Syrup
Printable Version
Ingredients
For Waffles
2 cups All Purpose Flour
1 TBSP Baking Powder
1/2 tsp Salt
3 TBSP Granulated Sugar
3/4 tsp Cinnamon
1/4 tsp Ground Cloves
1/4 tsp Ginger
1/4 tsp Nutmeg
1/3 cup Pumpkin Puree
2 Eggs
1 1/2 cups Milk
1/3 cup Butter, Melted and Cooled Slightly
For Cinnamon Syrup
1 cup Granulated Sugar
1/2 cup Milk
1 Stick Butter
1/2 tsp Cinnamon
1/2 tsp Baking Soda
1 tsp Pure Vanilla Extract
Directions
For Waffles
1. In a large mixing bowl whisk together flour, baking powder, salt, sugar, cinnamon, cloves, and ginger.
2. In a medium bowl mix together pumpkin puree, eggs, milk and butter.
3. Add wet ingredients to dry ingredients and mix just until incorporated.
4. Use waffle iron according to directions to cook waffles.
For Syrup
1. In a medium sauce pan heat sugar, milk, butter and cinnamon together over medium high heat.
2. Bring to a boil and boil for 1 minute.
3. Stir in baking soda and vanilla.
4. Mixture will foam so stir for 1 minute.
5. Serve over waffles.
Check out my other fun fall recipes!