These Blueberry Shortcakes quite possibly are my new favorite dessert.  You know me.  I don't say that lightly!  And let me qualify that it's my new favorite non-chocolate dessert.  They are super fresh and I felt like a rock star making them completely from scratch.  Don't let the homemade label shy you away from making them yourself.  I promise they are quite simple to create and you'll be thanking me later for sharing this recipe!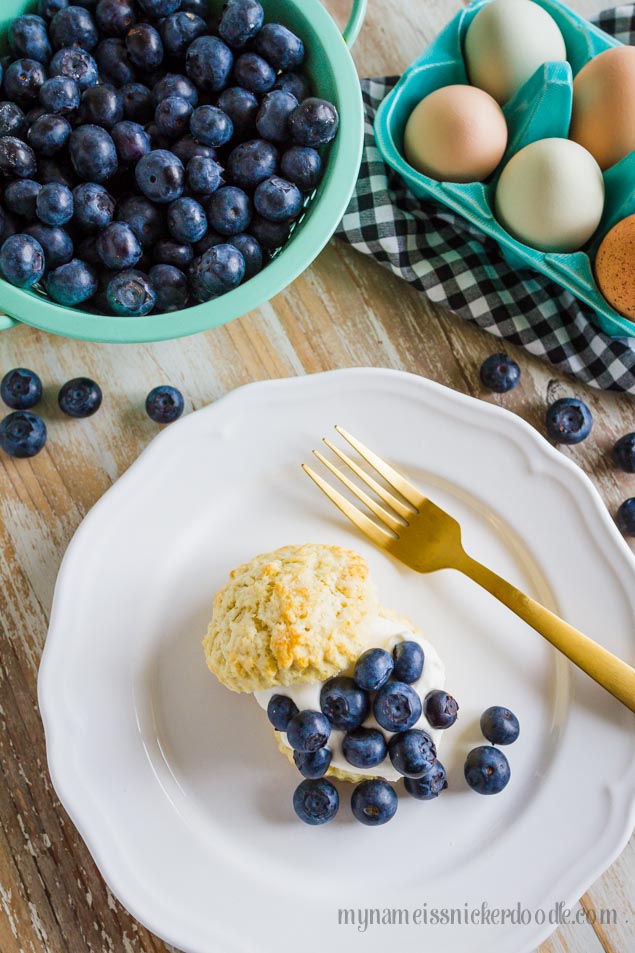 I find there is something about making something from scratch that gives me satisfaction.  Don't get me wrong.  I'm not above using a can of cream of anything in my recipes, but I do love making my family food that I know where each ingredient came from!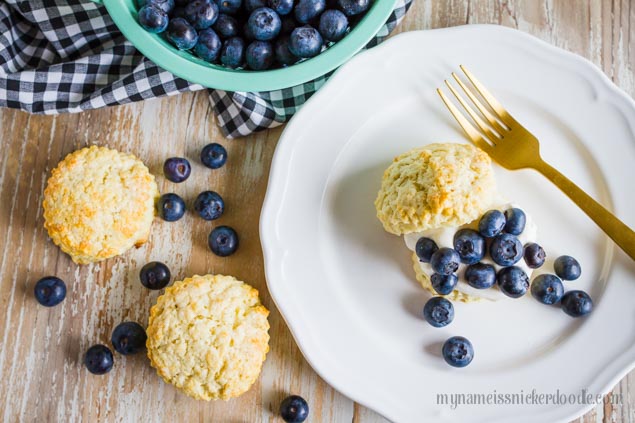 All summer long I have been buying fresh blueberries because my boys love them.  If they don't finish them off right away, I'll freeze the extras for smoothies for another day.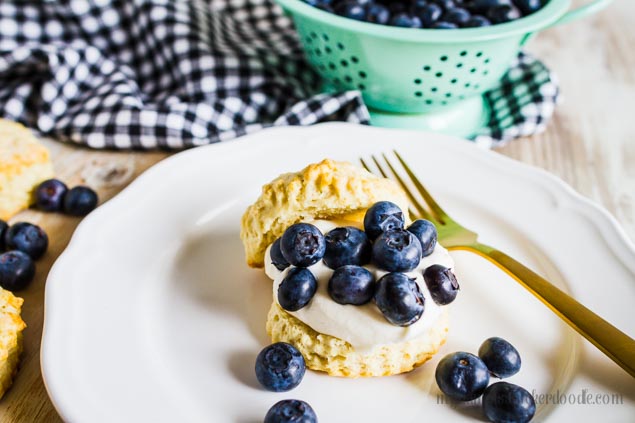 You could use frozen and just let them thaw (if that's all you had on hand), but fresh truly is best for these.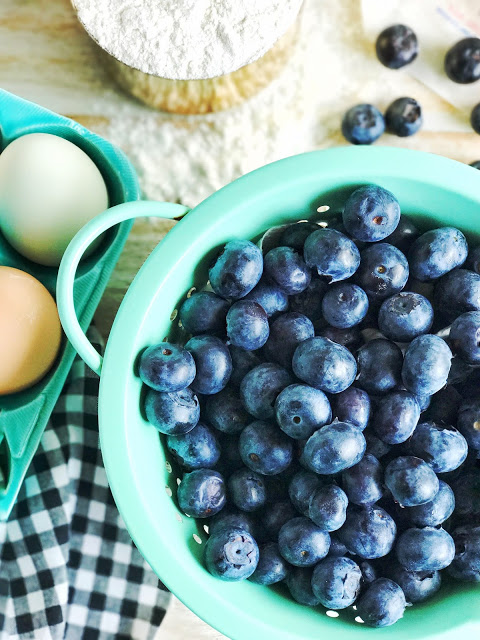 Let's take a minute to talk about the shortcakes!  Here's a little secret I'll let you in on.  It's actually
my scone recipe
without any berries cooked in them.  I also sprinkled on plenty of sugar on top to make them a little sweeter!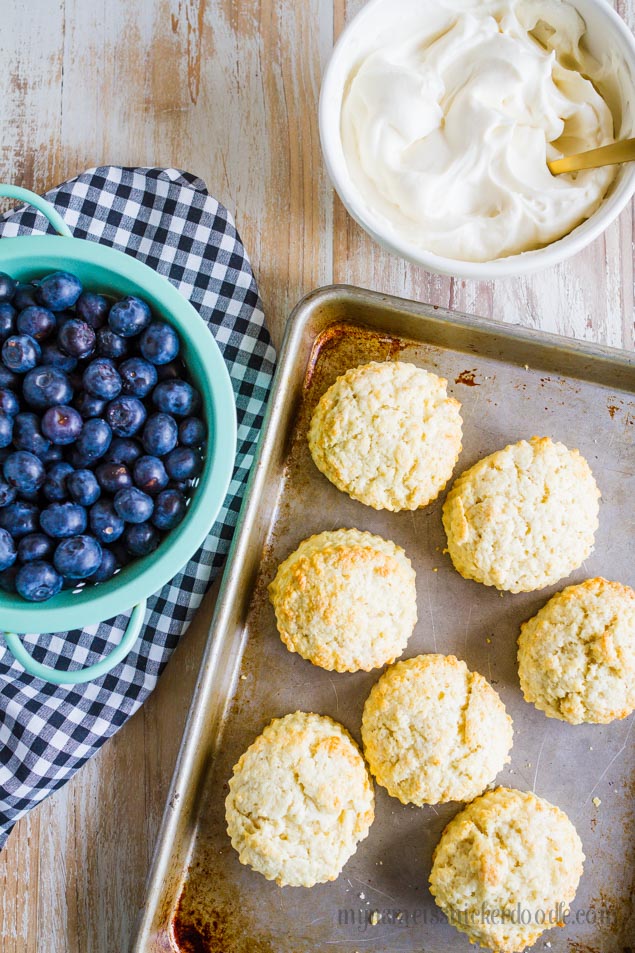 Now you can see why these are my new favorite.  Simple and delicious!  These would make for the perfect dinner party, back yard BBQ or Tuesday night dessert!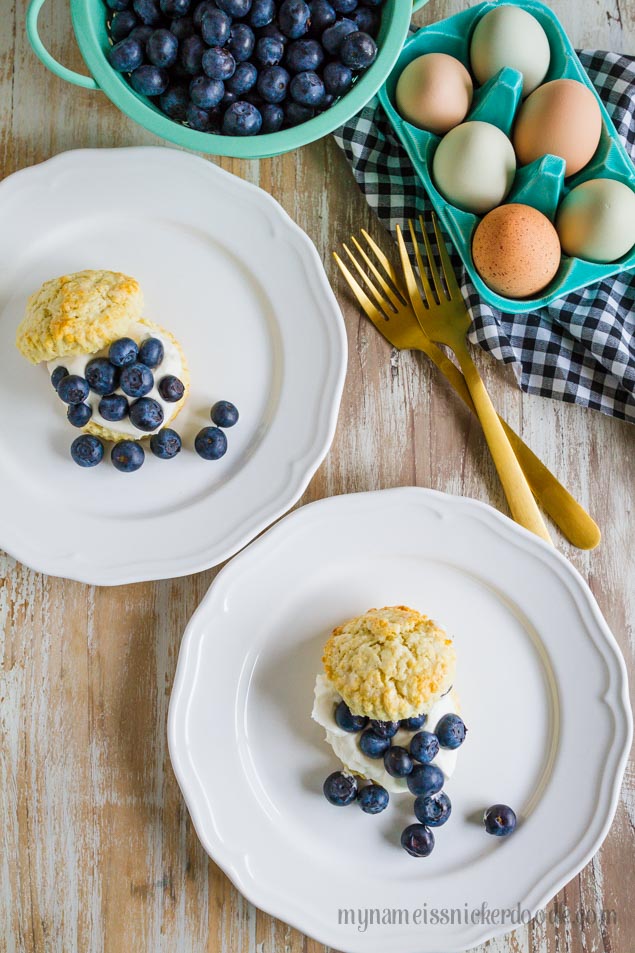 Printable Version
Makes 10-12 Shortcakes
Ingredients
4 Cups All Purpose Flour
4 tsp Baking Powder
1 tsp Baking Soda
1 tsp Cream of Tartar
1/2 tsp Salt
1 1/2 Sticks Cold Butter (sliced into 10-12 slices)
3/4 Cup Buttermilk
3/4 cup Heavy Cream
1 Egg
1/4 Cup Heavy Cream
1/4 Cup Granulated Sugar
Blueberries
2 Cups Whipping Cream
1 tsp Pure Vanilla Extract
1/4 Cup Granulated Sugar
Directions
1.  Mix
all dry ingredients in a large bowl.
2.  Add cold butter and using a pastry cutter, cut until pea
size and still some small butter pieces are evident.
3.  Mix buttermilk,
3/4 cup cream and egg in separate bowl.
4.  Slowly pour into dry mix, on low speed and mix briefly until combined. Do not over beat.
5.  Turn out onto floured surface and gently knead
dough 4-5 times.
6.  Roll dough into a 1″ rectangle.
7.  Fold into thirds and roll into another 1″ rectangle.
8.  Fold in half and gently roll into one last 1″ rectangle.
9.  Using a round cookie cutter, cut out shortcakes.
10.  Place on greased cookie sheet.
11.  Brush with a little more cream
and sprinkle with sugar.
12.  Bake at 425 for 13-18 minutes, until golden
brown then cool completely before serving.
13.  Beat together whipping cream, vanilla and sugar together until stiff peaks form.
14.  Split shortcake in half, place a dollop of whipped cream on top and sprinkle with blueberries.