For those of you Utahan's I am sure you have an appreciation for Kneader's. It's a delicious bakery that has a wonderful array of breads, sandwiches and baked goods. Here is one of their bread recipes that I tried out a few weeks ago. It's definitely a keeper…but I guess if it wasn't, I wouldn't be posting it, right?
Rosemary Focaccia

1 TBSP active dry yeast
1 TBSP sugar
1 cup warm water
2 1/2 cups flour
1 tsp salt
2 TBSP rosemary (fresh or dry)
2 TBSP butter (softened)
1/4 tsp sea salt or kosher salt
Place water and sugar in a bowl. Give a quick mix with your finger. Sprinkle yeast over the top and cover with a towel. Let rest for 5-7 minutes until bubbly. Mix in 1 TBSP butter, 1 TBSP rosemary, salt and 2 cups flour. Turn onto 1/2 cup flour and knead for 10 minutes or 5 minutes in a mixer. Place a small amount of olive oil in large bowl and coat the sides. Put dough in and turn over once to coat dough with oil. Cover with towel and let rise until double in size, about 1 hour. Punch down dough and cut in half. Spray baking pan with cooking oil. Shape dough into two small rounds. Sprinkle with remaining 1 TBSP rosemary and light press into surface. Cover and let rise again until double, about 45 minutes. Preheat oven to 375. Bake for 15-20 minutes or until lightly browned. Remove from oven and brush with remaining butter and sprinkle with salt. SO EASY and so good!
**I used a rosemary blend (from Pampered Chef) that had some other spices and a little garlic in it. I also only had Hawaiian Salt on hand to that is what I sprinkled on top.
We have had this next recipe every Christmas morning for the past 6 years. It was one of those self starter traditions that actually stuck. However, that does not prevent us from having it ever so often throughout the year.
Pull Aparts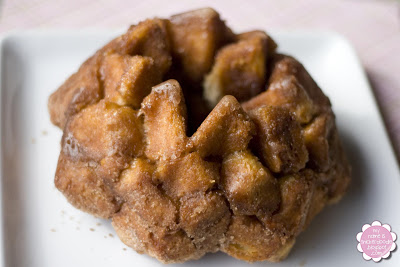 2 cans Grands biscuits or 3 cans regular size biscuits
1 1/2 cups sugar
2 1/2 TBSP cinnamon
1 1/2 stick butter
Spray bunt pan with cooking spray. Melt butter in bowl. In a separate bowl combine sugar and cinnamon. If using grands divide each biscuit into 6 equal pieces or 4 equal pieces if using regular size. Dip each piece into butter and then coat with sugar mixture. Place in bunt pan. Bake at 375 for 20-30 minutes. Cool in pan about 10 minutes then turn over onto plate.
*Since our family is small I use our small bunt pan and only use 1 can of Grands biscuits. Whatever size you use you want to make sure that you do not fill it up past 2/3 full.