When we moved back to Texas we discovered a pretty "wild" buffalo wing joint. Ian and I thoroughly enjoy their garlic and parmesan boneless wings. It is the perfect amount of flavor with a hint of spice. Now and then I also like to indulge in their mild wings while Ian goes full blazing hot!
Well, you know me…I like to try to recreate restaurant dishes at home. After some research online and ordering some test tasting wings, I came up with my own version that Ian claims is actually better than the real thing!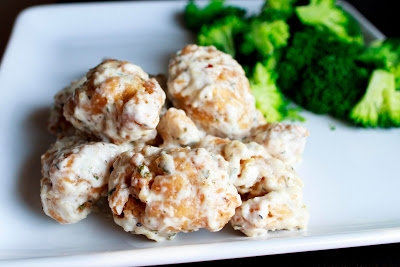 Garlic Parmesan Boneless Chicken Wings
Printable Version
Pin It
*1 bag frozen jumbo popcorn chicken
Sauce
4 large cloves of garlic, minced
2 tsp olive oil
1/2 cup sour cream
1/3 cup mayo
1/3 cup milk
1/3 cup parmesan cheese, freshly grated
1/8 tsp black pepper
1/8 tsp salt
1 tsp parsley flakes
1/4 tsp dried oregano
1/4 tsp garlic powder
1/8-1/2 tsp red pepper flakes (depending on how hot you you want it)
In a small pan, heat olive oil over medium high heat. Saute minced garlic in olive oil for 30 seconds, stirring constantly so not to brown or burn. Pour garlic and all of olive oil into a small bowl. Cool while getting out remaining sauce ingredient. Mix together all sauce ingredients, cover and chill for one hour up to 24 hours.
Bake popcorn chicken according to package directions. Once cooked transfer directly to a large bowl. Toss with sauce and serve. Use as much or as little sauce as you want.
*If you can't find jumbo popcorn chicken, feel free to use regular popcorn chicken or even southern fried chicken strips.