Our family is a broccoli family. We usually have it once or twice a week. I can't get Liam to eat a bit of pizza, but he would polish off a place of broccoli! I typically just steam it with a little water in the microwave, but every now and then I like to roast it. It adds a depth of flavor that you can't get with just steaming it.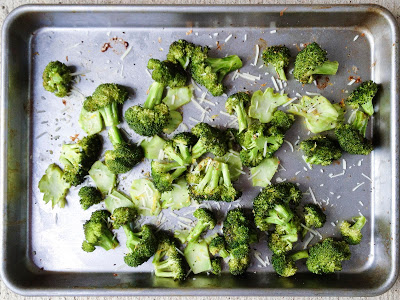 Roasted Broccoli

2 heads of broccoli
olive oil
kosher salt
fresh cracked pepper
1 medium lemon
Parmesan cheese
Preheat oven to 425°. Wash broccoli. Cut into bite size florets. *If you want (as seen in the picture) peel the outside of the actual stalk and slice into thin pieces. Place onto a baking sheet and drizzle with olive oil. Toss with your fingers to coat. Sprinkle with salt and pepper. Zest lemon evenly over broccoli and set lemon aside. Roast for 15 minutes. Remove from the oven and cut lemon in half. Juice 1/2 of the lemon over broccoli. Sprinkle with a little Parmesan cheese.