I know it's not Halloween yet, but in the online world (just like the retailers) you've got to be way ahead of the game. I'm sure this recipe is still weeks late as I am now starting to see people post and pin about Christmas! Crazy, I tell ya!
I've been making white chocolate popcorn for years (thanks to my friend Margie who introduced me to it!). It's a go to sweet treat around here. I even posted about it back here. Well, I amped up her version a bit with milk and semi sweet chocolate, but you get my drift.
There are a lot of different versions of this next recipe floating around out there, but this one just happens to be mine. It's very adaptable so add in whatever sounds good to you! If you can, use freshly popped popcorn. I've recently rediscovered the old-fashioned-on-the-stove-in-a-large-pot method and love it. Did I mention I've perfected movie theater popcorn in my home for pennies? No? Well, I'll have to share it with you sometime.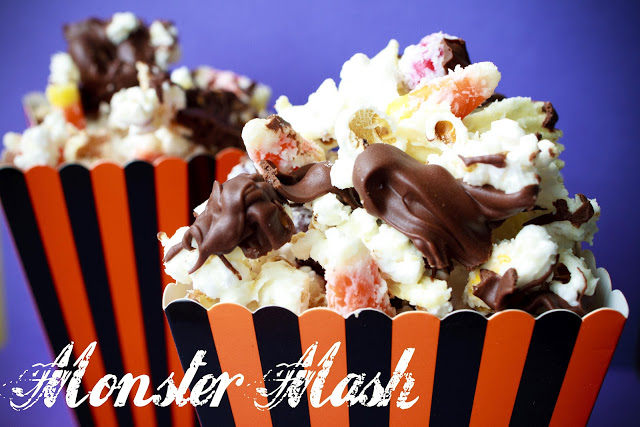 Monster Mash
Printable Version


10 cups popped popcorn
2 cups lightly crushed potato chips (I used Ruffles)
1 cup lightly crushed pretzel twists
1 1/2 cups candy corn
1 12 oz bag Halloween M&M's (I used peanut)
3 cups white chocolate chips
1 cup milk or semi-sweet chocolate chips
In an extra large bowl mix together popcorn, potato chips, pretzels, candy corn and M&M's. Using a microwave proof bowl, heat white chocolate chips for 10 second intervals until melted. Stir after each cook time. About 40-60 seconds.
Immediately pour over mixture and gently toss until completely coated. Pour out onto a baking sheet and spread it out evenly. In another microwave proof bowl melt milk chocolate chips using the same method. Once melted, use a small spoon to drizzle over mixture.
Let it set back up on the counter for 6 hours or place it in the fridge for 1 2 hours. If you put it in the fridge your run the risk of your regular chocolate tempering too quickly and causing it to have white streaks. But if you're like me and want to eat it right way, you really won't let that bother you!
Just make sure whatever method you use, let it completely set/dry before packaging it up and giving it away. Because you will need to give it away or else you might just eat the whole thing, bit by bit. Just saying.
This recipe is linked up to Six Sisters Stuff, The 36th Avenue, and Tatertots and Jello.