I seem to be making a lot of Mexican inspired dishes lately. A staple in our house are burritos. I don't get too fancy, just beef mixed with prepackage taco seasoning, beans and cheese. Ian just recently admitted that he does not feel so well after eating them. I asked him how long he had not told me this and he replied, "Years." He said that he really enjoys them when he is eating them, but not so much afterwards. He thinks it the taco meat that I prepare. My mom can't eat taco meat either because she has the same results. Looking on the back of the packaging…some of them have MSG and other random, unknown ingredients. When I happened upon this recipe, I was ecstatic! I had every single ingredient on hand and it was actually cheaper than the mix envelope. The night I decided to try it, I wanted to mix it up and make soft tacos (I altered mine from the original recipe). Exact same ingredients as my burritos just a different name…they are just lazy burritos. I hope you enjoy them as much as we did! And Ian was completely fine afterwards. Bonus!
Taco Seasoning Mix
*Perfect amount for 2 lbs of ground beef.
4-6 tsp. instant minced onion (or 2 tsp onion powder)
2 tsp. salt
1 tsp. chili powder
1 tsp. cornstarch
½ tsp. crushed dried red pepper (cayenne)
1/8 tsp. garlic powder
¼ tsp. dried oregano
½ tsp. ground cumin
1/8 tsp. pepper
Mix together and store in a ziploc bag or air tight container.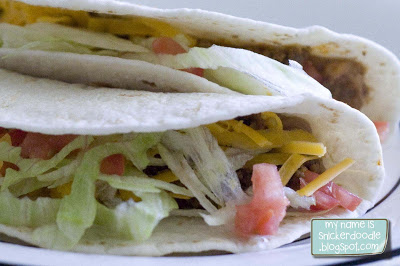 Tacos
*This is a halved recipe since it's just the three of us. Easily doubled.
1 lb lean ground beef
1 8 ounce cans tomato sauce
4 tsp homemade taco seasoning
pinch of brown sugar
2 TBSP sour cream
Brown ground beef and drain off any grease. Stir in tomato sauce, taco seasoning and brown sugar. Simmer for 10 minutes. Take off heat and stir in sour cream.
Serve with tortillas, beans, cheese, tomatoes, lettuce and sour cream.
Okay, don't be too upset, but again, I don't have a dessert recipe to share with you this week. I do however have a list of yummy ones that I want to make in the coming weeks so I will get right on that…and right on a treadmill!
Don't forget about my little giveaway…it ends on Monday! I am really loving the book suggestions, ladies! I have to update my Good Reads account now.