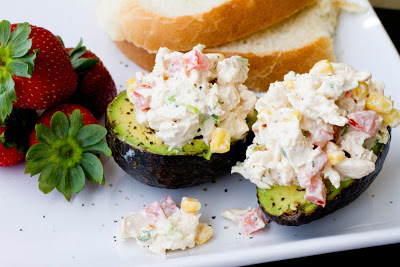 I was completely inspired by this recipe to create this dish. No story, just straight goodness!!!
Chicken Avocado Salad
Serves 2-4
2 large ripe avocados
2 cups cooked chicken breast, shredded
1 Roma tomato, seeded and diced
1/4 cup frozen corn, thawed
2 green onions sliced
1/4 cup black beans, drained and rinsed (not pictured)
1/4 cup mayo
2 TBSP fresh lime juice
salt and pepper
In a medium bowl, mix together, chicken, tomatoes, corn, green onions, black beans, mayo, 1 TBSP lime juice and salt and pepper to taste. Slice avocados in half lengthwise and remove seed. sprinkle remaining TBSP lime juice over all 4 slices. Season with salt and pepper. Top each half with chicken salad and serve.