I know it's not Friday, but with my theme of breads this month for Fabulous Food Friday, I really couldn't wait a few more weeks to share this next recipe with you! Really. I know I have a problem.
A while ago we went out to eat with Ian's cousin and his family who just moved into town. Even though they are family, they are more like wonderful friends that we love being around. They were needing a Cafe Rio fix which is a Utah based company that most everyone craves. So we headed to the next best thing that we can get in Texas, Costa Vida. I've only been there once a long time ago and truly don't remember what I got. This go around I ordered the Sweet Pork Quesadilla and fell in love. Really. I've been thinking about it every since and how I know that sweet pork loved me back! It was definitely a mutual relationship. Well, I stepped out on that sweet pork to spark up another romance with my own recipe. Such a shocker, I know.
Okay…enough of that mushy stuff.
Now, I'm not saying that this is a Cafe Rio or Costa Vida knock of recipe. What I am saying that this just might be better. Really.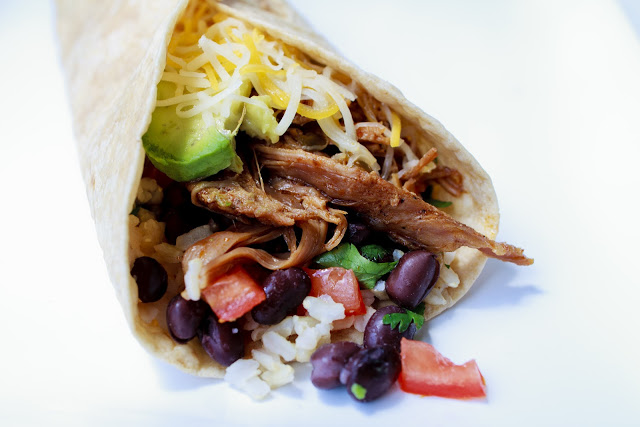 5-6 lb pork roast
Rub
1 1/2 tsp salt
2 tsp pepper
2 tsp paprika
4 tsp chili powder
3 tsp garlic powder
1/2 cup brown sugar
Sauce
3 cups Dr. Pepper (or 2 12oz cans)
1 10oz cans red enchilada sauce
1/2 cup brown sugar
1/4 cup sugar
1/2-1 jalapeno pepper
1 medium yellow onion
Thinly slice the onion and set aside. Finely dice the jalapeno and set aside. In a medium bow combine rub ingredients. With a sharp knife, score the roast in a criss cross fashion on both sides. This will allow more of the rub to flavor more of the meat and not just the fat. Rub mixture over the entire roast and place in a large slow cooker/crock pot. In that same bowl (because who needs to wash more dishes?) combine the sauce ingredients. Depending on how spicy you want your pork to be, add in half or the entire diced jalapeno pepper. Pour around the roast (try not to pour it over the top or else you will "rinse" away most of the rub). Cook on high for 6 hours. With two forks shred the pork in the slow cooker. Continue to cook for 3 more hours. If you have the time cook it on low (or over night and all day) cook for 10 hours, shred and continue to cook for 6 more hours.
*I served mine as a burrito (well more like a taco because I had filled it with so much goodness) with brown cilantro rice, black beans, tomatoes, sliced avocado and cheese. Pure heaven! The next few days we ate it in yummy quesadillas with the left over rice and beans