Lemon Blueberry Crepes take less than 30 minutes to make and are perfect for a weekend breakfast.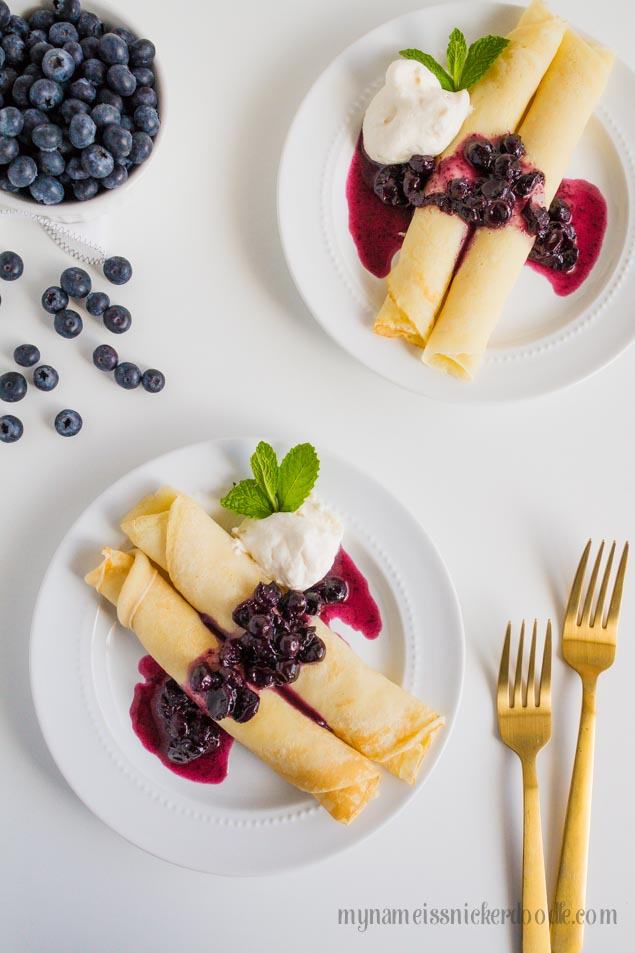 Do you make crepes at home?  I used to think it would be hard, but it truly is very simple.  Each crepe only takes less than 2 minutes to make and they are one of my favorite breakfast meals.
These are filled with a little lemon curd and I like to get mine from Trader Joes!  No need to make your own when theirs is so heavenly!  You can find it (as well as any other grocery store) with all the jams and jellies.
If I have the extra time I'll make a double batch of these and either chill the rest in the fridge or I've even been known to  create a whole Orange Cream and Nutella Crepe Cake with them!
Be creative with your fillings and toppings.  My favorite just happens to currently be these Lemon Blueberry ones at the moment!
Below I've linked a few tools you might not have on hand to make crepes.  Nothing fancy, but they might make the experience a little easier.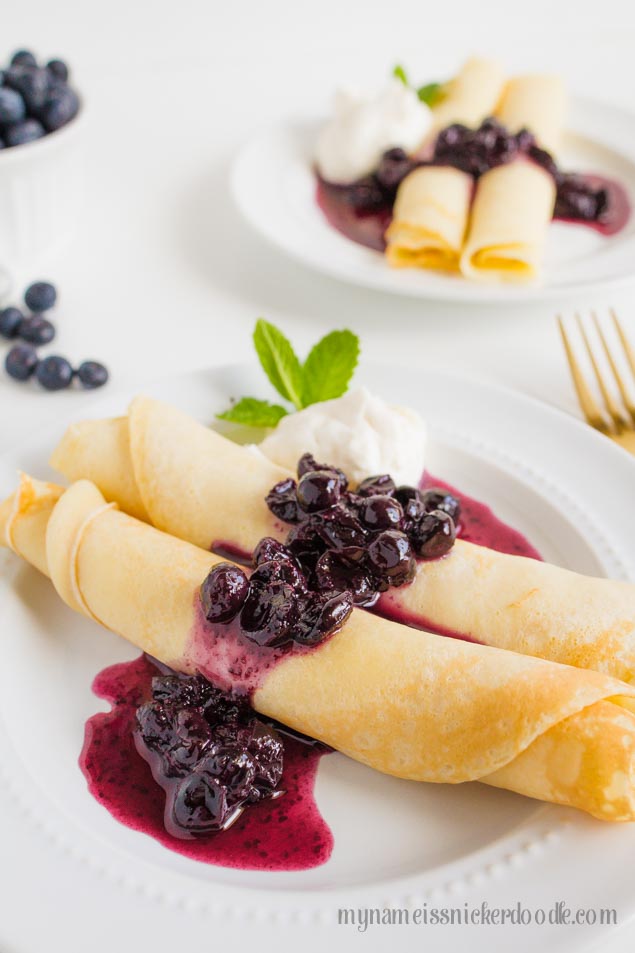 Here are few tools you might need.
I don't have a crepe pan, but this 10″ Crepe Pan  is on my list.  I have a an 8″ skillet similar to this 8″ Non-Stick Skillet and it works great.  You will also need a spatula and these Heat Proof Silcone Spatulas would work really well.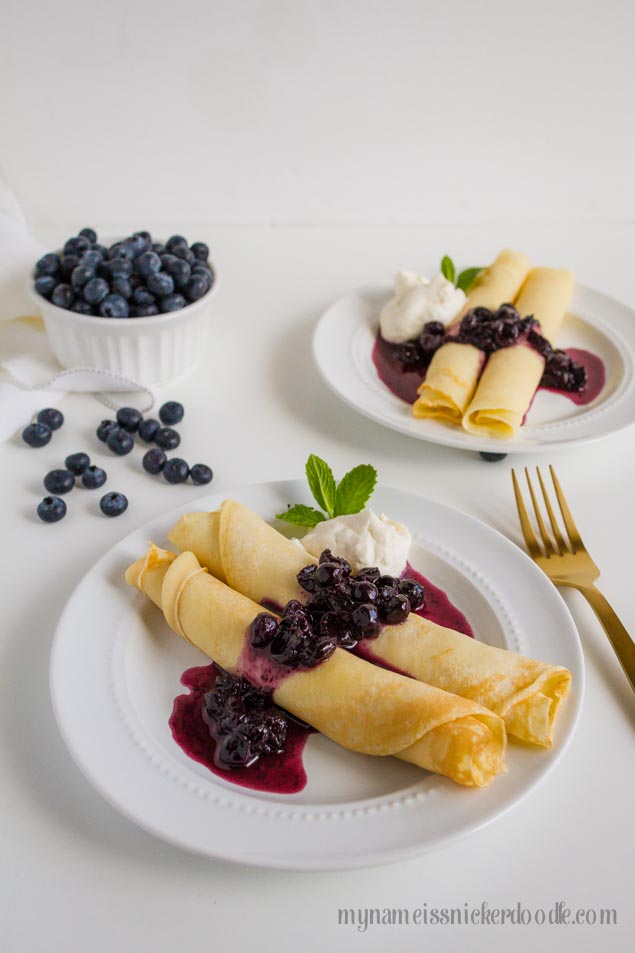 Lemon Blueberry Crepes Recipe
Lemon Blueberry Crepes
Author:
Prep time:
Cook time:
Total time:
Lemon Blueberry Crepes take less than 30 minutes to make and are perfect for a weekend breakfast.
Ingredients
FOR BLUEBERRY SYRUP:
1 Pint Fresh Blueberries
1/2 Cup Granulated Sugar
1 tsp Cornstarch
1/2 Cup Water
FOR CREPES
1 1/2 Cups All Purpose Flour
1 TBSP Granulated Sugar
1/2 Kosher Salt
2 Cups Milk
2 Large Eggs
1/2 tsp Pure Vanilla Extract
2 TBSP Butter, Melted
Lemon Curd from the jar
Instructions
FOR BLUEBERRY SYRUP:
In a small sauce pan combine blueberries, sugar, cornstarch and water.
Bring to a boil and cook for 1 minute.
Reduce heat to low and simmer for 5 minutes, stirring occasionally.
Syrup should be a little thick.
Let it cool slightly while you make the crepes.
FOR CREPES:
In a large bowl whisk together flour, sugar, and salt.
In a small bowl whisk together milk, eggs and vanilla.
Add to dry ingredients and beat together until well mixed.
Heat a medium skillet over medium heat and melt butter.
Add the melted butter to batter and combine.
For each crepe, pour 1/3 cup batter into hot skillet and tilt the pan until you've created about a 8″ circle.
Cook until light brown and the sides start to pull away from the pan (about 1-2 minutes)
Then using a rubber spatula, flip over and continue to cook for another 30 seconds.
Remove to a plate and repeat with remaining batter.
If your crepes are starting to stick a little, add a tiny bit of butter to the pan.
Spread each crepe with a little lemon curd and roll up.
Place two or three on a plate and top with fresh blueberry syrup and whipped cream.
Serve warm.