I guess there comes a time when you have to give in and actually categorize what you do sometimes. Even though this is not entirely a food blog, I would have to consider myself a "food blogger". I probably post mostly about food and I love it! It's great trying out new recipes of my own and ones that I find from other food bloggers alike. Sometimes those recipes are a huge success and then what most food bloggers rarely admit is a fair share of those recipes are a flop.
That brings me to my quest to find the best pizza dough recipe! It feels like I tried a million different recipes that I had found online. NONE of them were a success! They were either too bready, too fluffy, too involved, or just plain blah. I tried making one up on my own and I'd rather not relive that again! It wasn't until a new friend of mine had posted a picture on Facebook of her family's pizza night that I knew I had myself a winner. Even with her camera phone, flash a-blazin' picture of this dough I could tell it was what I was looking for in a dough. Thinner, but not crispy thin. Chewy, with just enough bite.
Can you tell I mean serious business when it comes to my pizza? She was nice enough to pass along the recipe and I've adapted it a smidge to my liking. Her family is actually building a pizza oven in their backyard. They love this pizza dough that much! And now, so does my family!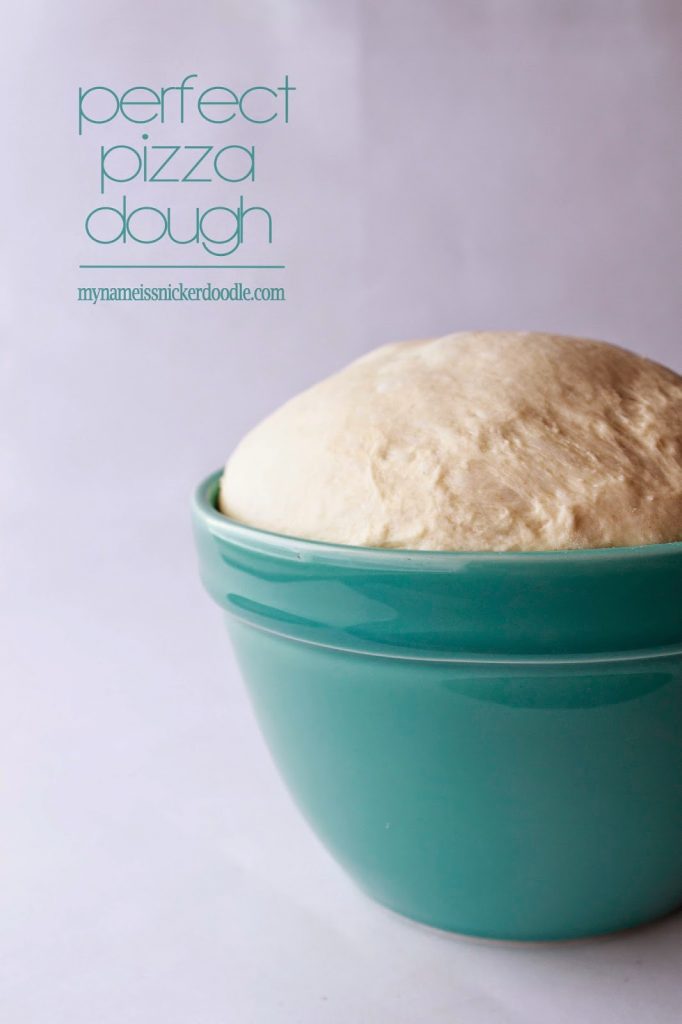 *Notes*
I use a pizza stone. You don't have too. You can bake this right on your oven rack. You will have to use parchment paper with or without a pizza stone, though.
Perfect Pizza Dough
Printable Version
Makes 2 16″ Round Pizzas
1 1/2 tsp self-rising yeast
1/4 tsp sugar
1 1/2 cups warm water
1/4 tsp salt
3 1/2 cups all purpose flour
1 TBSP olive oil
In a large standing mixer bowl, sprinkle in yeast and sugar. Pour in water and cover with a towel. Let it proof for for 6 minutes. Add in the salt and flour. Using the dough hook attachment, mix and knead dough for 3-5 minutes. All the dough should be coming away from the sides completely. If it's still a little sticky, add in a little more flour.
Take the dough out of the bowl and place on a clean surface. Add in the olive oil to the same mixing bowl. Form the dough into a ball and place back in the bowl, turning over in the oil to completely coat. Cover with a towel and let it rise in a warm place for 1 hour or until it has doubled in size.
Place your pizza stone in your oven on the middle rack and preheat your even to 450. Prep all of your toppings while the oven is preheating. Punch down dough and cut it in half. Place it on a large piece of parchment paper and roll out into a 16″-18″ round. It might seem really thin, but it will rise in the oven. Assemble your pizza – sauce, cheese, toppings and more cheese. Slide the pizza and parchment paper onto an upside down cookie sheet. Take this over to the oven and then slide the pizza and parchment paper onto the hot pizza stone. Bake for 10-13 minutes until cheese is melted and crust is slightly brown and golden. Slide the pizza and parchment paper back onto the upside down cookie sheet, cool for a few minutes, slice and serve.
While the first pizza is cooking, roll out and assemble your second pizza onto another sheet of parchment paper. Once you take the first one out, slide the next one in the same way.
This recipe is linked up to – Mandy's Recipe Box, Inside Bru Crew Life