Citrus Holiday Stove Top Potpourri is always simmering away in my house during the holidays!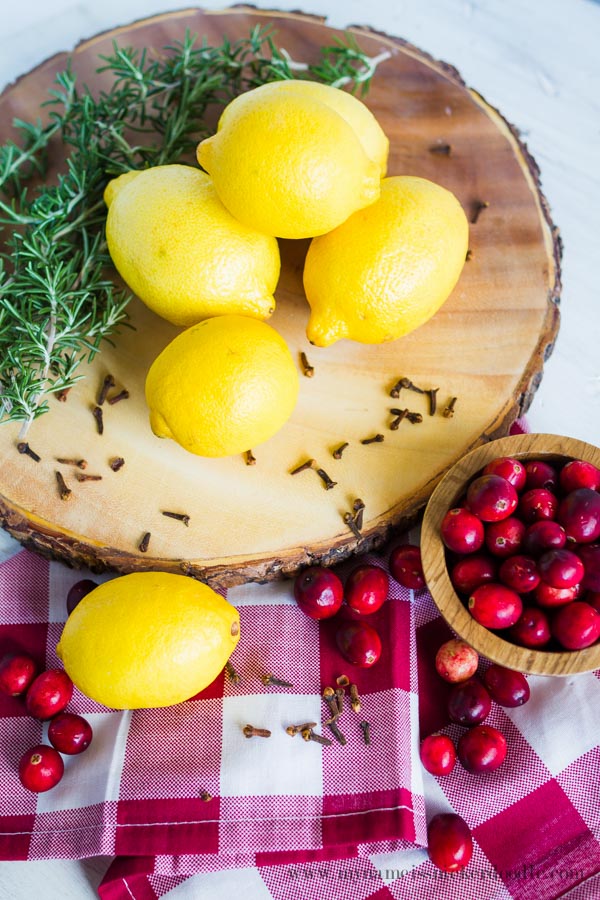 This time of year is my absolute favorite and I'm trying to just soak it all in!  I've decided to slow down a bit and enjoy each moment as we celebrate our family, traditions and of course, Jesus Christ.
With trying to create long lasting memories for my kiddos, I'm also trying to create a fun atmosphere at home with decorations and trying to have my house smell as heavenly as possible!
This "recipe" for my Citrus Holiday Potpourri is easily put together and will last for a few days just simmering away on your stove top.
What Is Stove Top Potpourri
When I was growing up my mom always had a bowl of dried rosebuds and greenery in a bowl that typically smelled vaguely of flowers.  The fragrance only lasted a few days when it was fresh and then collected dust as I'm sure it did it most of the homes in the 1980's!  Dried potpourri was very popular in those days.
Stove Top Potpourri is made up of mostly fresh ingredients and simmered in water on the stove top.  A very popular version is made from the classic orange and cinnamon stick and is popular this time of year.  I like to mix it up and use lemons.  They add a freshness while the rosemary and cloves add that holiday scent we all love.  The cranberries add just enough sweetness and make the simmering water a pretty pink!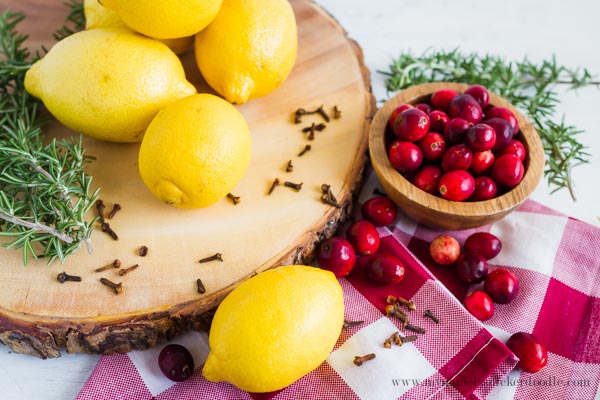 Isn't this pot just gorgeous and festive?!  You will be very surprised of how amazing your home will smell when this is simmering away.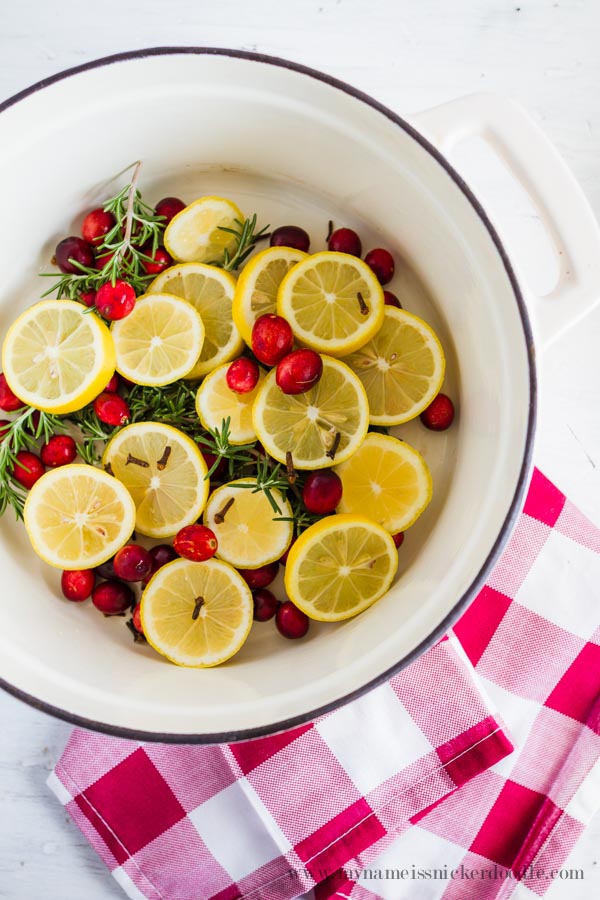 Do I Need A Special Pot?
You can use any size pot you have.   Whatever pot you choose, make sure it has a heavy bottom.  This helps prevent from any of the ingredients burning on the bottom.
Just adjust the amount of potpourri and water.  You want the water level to be about 1 " higher than your potpourri.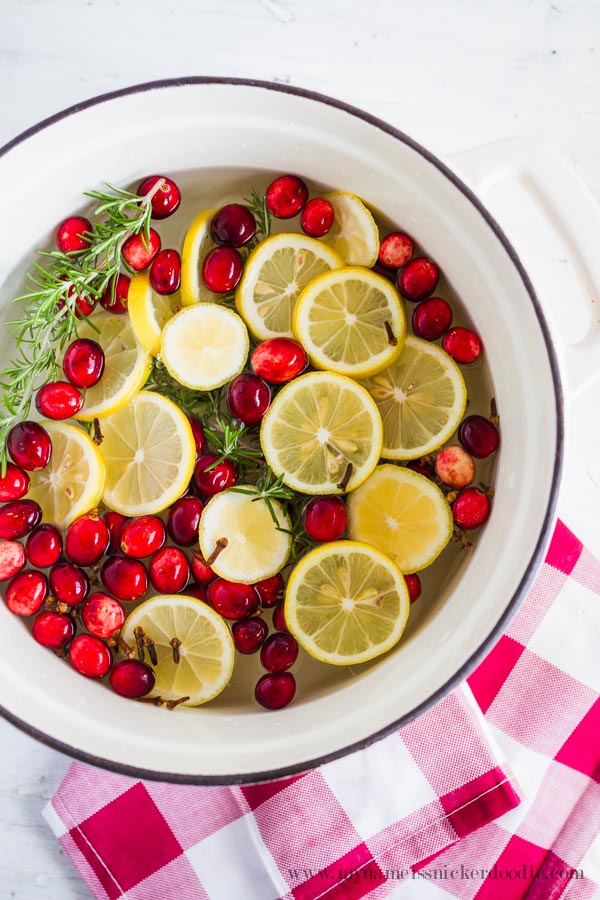 Once you've started it, it will last you about 4 days on the stove.  I only have it simmering during a few hours while we are home.  I just add more water when needed because you don't want the level to get too low.  If the water starts to simmer out, you'll end up scorching the pot and burning the ingredients.  (And, obviously, this is not to be ingested!)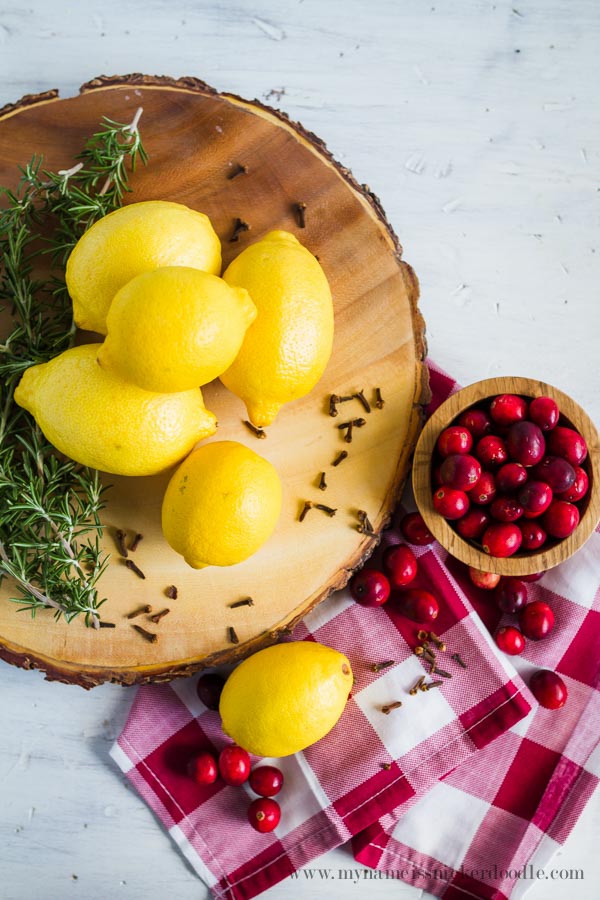 Citrus Holiday Potpourri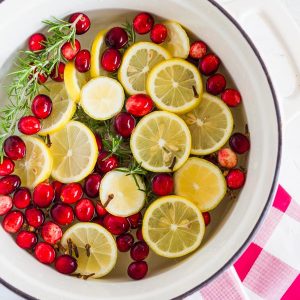 Holiday Stove Top Potpourri
Citrus Holiday Stove Top Potpourri is always simmering away in my house during the cold winter months. Lemons, cranberries, cloves and rosemary bring the scent of the holidays!
Print
Pin
Ingredients
6-8

Medium Lemons

1

TBSP

Whole Cloves

2

Cups

Fresh Cranberries

3-4

Rosemary Sprigs

Water
Instructions
In a large heavy bottomed pot add in sliced lemons, cloves, cranberries and rosemary.

Pour in water to cover. Water level should be about 2/3 of the way up the pot.

Bring water to boil then turn down to low simmer for 2-3 hours at a time.
Try these other holiday treats!