I've seen these pie pops around for a while now and just fell in love with them. I'm not a huge pie fan, but do love a little sliver every now and then so this is perfect for people like me! It took less than 15 minutes to make so if you are in need of something quick and super adorable this weekend…I highly recommend making these!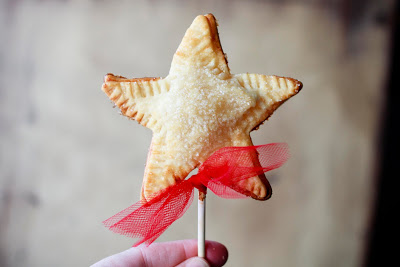 Pie Pops
2 refrigerated pie crusts (or your favorite recipe)
1 cup favorite pie filling (I used apple*)
1 egg
2 TBSP water
granulated sugar
sucker sticks or popsicle sticks
Preheat oven to 450°. In a small bowl whisk together egg and water. Set aside. Roll out dough onto lightly floured surface. Cut out shapes (I got 7 stars out of each round of dough). Just make sure you have an even amount because you will need two shapes for each pie pop. Lightly spray a cookie sheet with spray. Place half of your shapes onto sheet leaving room for stick. Place one stick onto each shape and press down lightly. Place 2 teaspoons of filling into the center of each shape. Brush egg wash all around the edges and place another shape on top. With a fork, seal all around the edges. Brush each of the tops with the egg wash and sprinkle with sugar. Bake for about 8-10 minutes or until golden brown. Remove from oven and with a spatula gently move each pop to prevent sticking when cooling. Let completely cool on pan. Tie a ribbon onto each stick for a more festive look!
*If you are using a larger fruit filling like apple or peach, just make sure do dice up your fruit before you fill each pie pop.