This recipe is probably the easiest one that I have. I won't claim that I was the very first one make it, but I did come up with it on my own a few years ago to help us save some money on our groceries. It's been a favorite ever since!
French Bread Pizza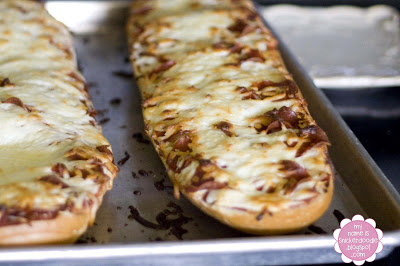 1 loaf French bread
1 jar of pizza sauce (spaghetti sauce tends to be too watery)
1-2 lbs shredded mozzarella cheese
favorite pizza toppings
Pepperoni
green peppers
olives
ham
mushrooms
Slice French bread in half lengthwise. If you think ahead (like I hardly ever do) line a baking sheet with foil so it's an easy clean up. Place bread cut side up onto sheet. Pour half of the bottle of sauce onto first slice and spread evenly with a spoon. Repeat with other side. Now here is where your taste buds come into play. If you like a cheesy pizza go crazy…if not, play it safe. We are definitely cheese people at my home so I usually top each slice with plenty of cheese, then my toppings, then more cheese to "secure" my toppings so they don't fall off. Bake at 375 for about 12-14 minutes…until cheese is melted and lightly golden brown. Cool slightly and cut into desired amount.
* Tips…1. I like to roughly chop my pepperoni before I put it on. I have a peeve when I can't completely bite through a full slice of pepperoni and when I go to pull it off, half of the cheese comes with it. 2. I have found that buying a block of cheese and shredding it myself makes for not such a cheese 'pancake' as the pre-shredded makes. You know what I am talking about. 3. What's nice about this recipe is that your family can choose what topping they want on their half. And you don't have to make the dough. Don't get me wrong, I love a good homemade pizza dough, but this only takes minutes to make and it is tasty! 4. I have found that Wal-mart's brand, Sam's Choice, actually taste better than the Ragu pizza sauce. And it's a bit cheaper.
This dessert recipe comes from my mother in law….and it's the first time I have made it. Not because I am bitter…but because she always makes it so I never have to! I was going to make banana bread last night, but then remembered that I was needing to make something different for Fabulous Food Friday. So here you go!
Cinnamon Cake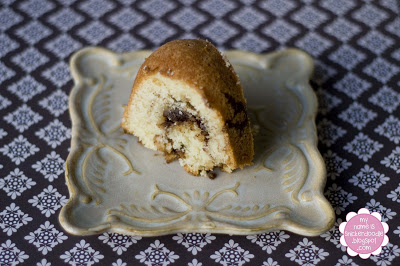 2 cups sugar
1 cup butter (softened)
2 eggs
1 tsp vanilla
1 cup sour cream
2 cups flour
2 tsp baking powder
2 tsp cinnamon
4 TBSP brown sugar
Cream together sugar and butter. Add in eggs and mix. Stir in vanilla and beat well. Fold in sour cream. In a seperate bowl mix together flour and baking powder. Blend into batter by hand. Batter will be thick. In a small bowl mix together brown sugar and cinnamon. Pour half of the batter into a well greased and flour bunt pan. Sprinkle 3/4 of cinnamon mixture over batter. Spread remaining batter over filling. Top with the rest of the cinnamon mixture. Bake at 350 for 45-60 minutes (until center comes out clean). Cool 10 minutes in pan then invert on to plate to cool completely.