My friend, Julie is a fabulous cook. She has a very gourmet pallet and has introduced many new flavors to my family. Along with her respect for fancy foods, she has a great knack of making simple yet delicious foods. I got this recipe from her a few years ago, but like many of the others, I haven't made them until recently. I have made it a couple times and have altered it to what is the recipe now. What I love about it most is I can make a whole batch and freeze them for a future quick and easy breakfast.
Mini Quiche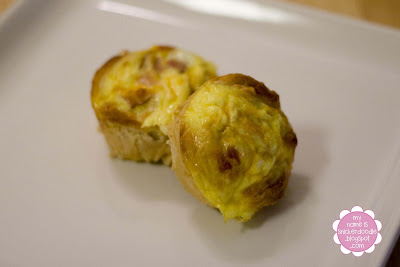 1 tube Flaky Grands Biscuits
4 eggs
1 cup half & half or whole milk
1 1/2 cups shredded cheese (Swiss or cheddar)
1/2-3/4 cup diced ham or cooked bacon
Whisk together eggs and milk. Stir in cheese and ham. Cut biscuits in half lengthwise making two "thinner" rounds. Spray muffin tin with non-stick cooking spray. Place one dough round into each cup and lightly press to form to the pan, making your crust. Fill each cup just under full. Place muffin tin on a cookie sheet to catch any over flow. Bake at 400º for about 15-25 minutes or until golden brown and egg mixture is set. Cool slightly then remove from pan to serve. Repeat with remaining ingredients. Yields 20 mini quiche.
*I find that the cheese and ham usually sinks to the bottom of bowl and doesn't pour out really well. If this happens, just spoon some of it into your crust and then top with the egg mixture.
If you want to freeze these after you have baked them, cool completely and place in a freezer bag in a single layer. For reheating, place on plate and microwave for 45-60 seconds. Perfect for on the go!
Here is another throw-it-together-and-enjoy recipe. I got this one off of a Utah based show a few years ago and liked how it was a little different than your typical no bake cookies.
Peanut Butter No Bake Clusters
2 cups sugar
1/2 cup milk
1/2 cup butter
1/8 tsp salt
1 tsp vanilla
1 cup peanut butter
3 cups quick oats
Combine sugar, butter, milk and salt in a large sauce pan. Bring to boil, stirring constantly. Allow to boil for one minute. Remove from heat and stir in vanilla, peanut butter and oats. Stir until mixture begins to thicken about 5-7 minutes. Drop onto a parchment lined cookie sheet. Cool completely. Store in refrigerator.
By the way…Happy National Chocolate Chip Day! It's a perfect day do make this, these or these!