Candy Rainbow Bark is so satisfying to make and would be perfect for a Rainbow Party, St. Patrick's Day, a Unicorn celebration or simply to brighten up a Thursday afternoon! Made with melted white chocolate, then sprinkled with rainbow sprinkles, candy and gummies. Let is set up and harden and you have yourself a bright colored candy bark!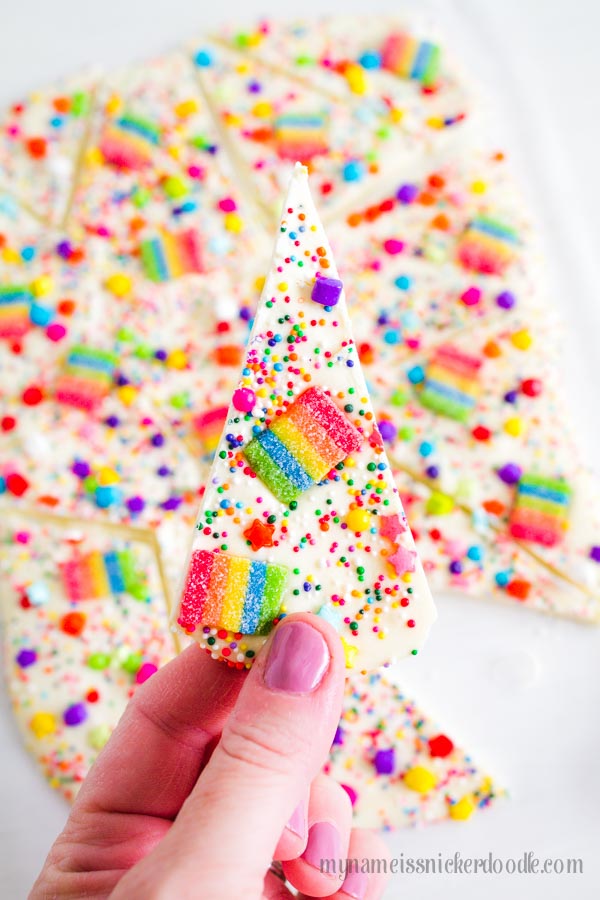 Candy Bark
Being a child of the 80's, rainbows have a special place in my heart!  It seems like everything back then was covered in rainbows!  Sweatshirts, socks, binders, and back packs.  I even had a puffy rainbow hair clip that I remember wearing often.  Mostly right above my side ponytail!

They say that history repeats itself and that's 100% true.  Rainbows seem to be making the comeback along with unicorns and my 8 year old self couldn't be happier about it!  Then I was trying to think of a happy and fun treat to make and this one popped into my head. 
It's even more adorable in real life!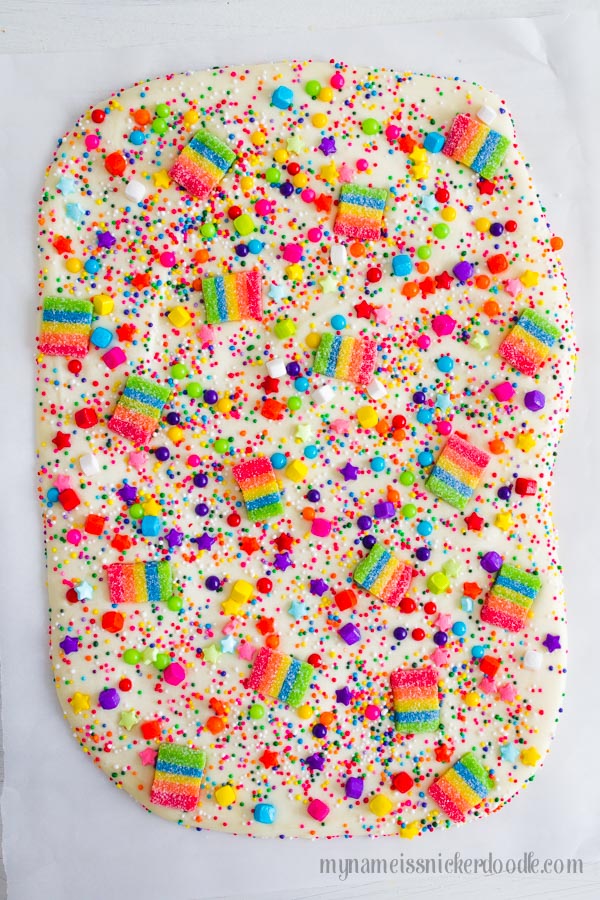 How To Make Candy Bark
I made this in 5 minutes flat and let it set for about 30 minutes before it was ready to cut.  Not bad for a dazzling display of sweetness. 
You might even have all this on hand and could have the kiddos help you when they get home from school today.  Or you can even have little ones could put this together and use whatever sprinkles are hanging around in your pantry.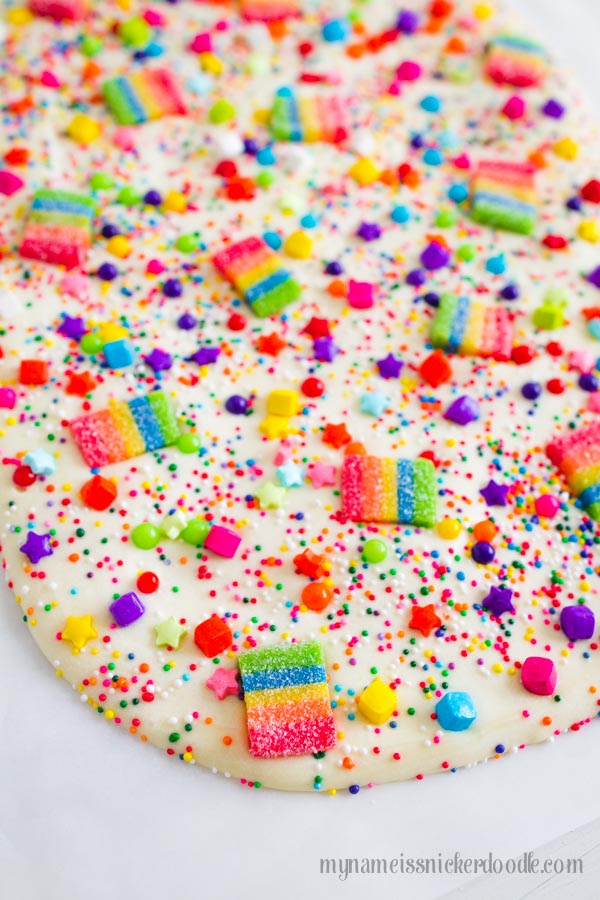 With every picture, I die with how happy this is!!  There is just something about rainbow sprinkles that just lights up my face and makes me want to do a little dance…okay, I maybe not dance, but I do get giddy!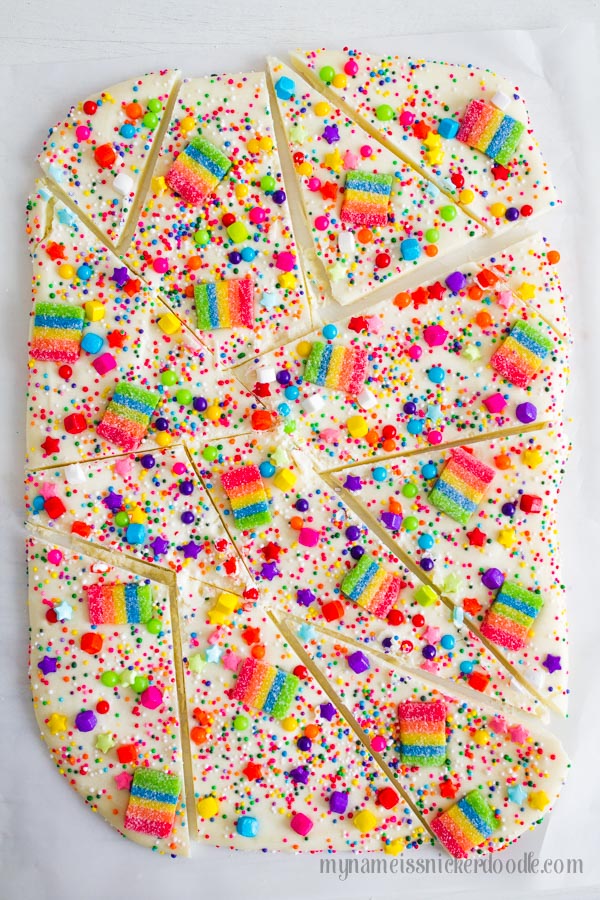 This treat would be perfect to share on St. Patrick's Day, a birthday party or just to brighten someones day. 
Let me know in the comments where you are sharing it!  I love hearing how people use my recipes and ideas!  It helps me to know what you like in the future.
You can shop for a few of the ingredients here…
Airhead Xtreme Rainbow Bites
Rainbow Sprinkles
Parchment Paper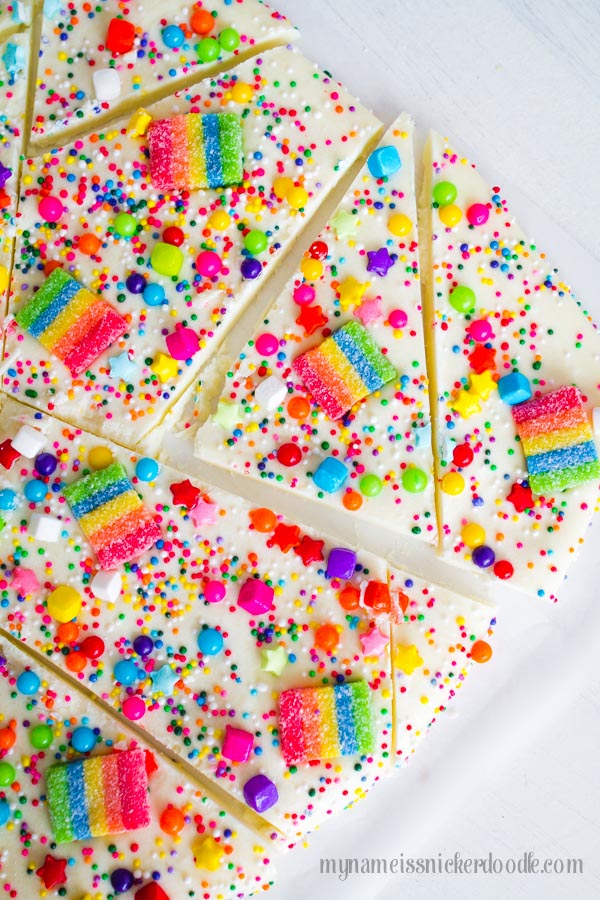 Here are some other fun recipes I know you'll love!
Rainbow Candy Bark Recipe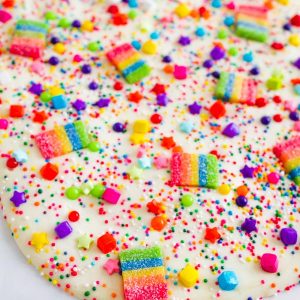 Candy Rainbow Bark
A super simple candy recipes that is fun to make. Melted white chocolate and plenty of rainbow sprinkles!
Print
Pin
Ingredients
2

cups

White Chocolate Chips

1

tsp

Canola Oil

Rainbow Gummy Candy Bits

Variety of Rainbow Sprinkles
Instructions
Line a large baking sheet with parchment paper.

In a medium heatproof bowl mix together chocolate chips and oil together.

Cook for 1 minute stirring after each 10 seconds until completely melted.

Pour out onto the parchment paper and spread out evenly to about 1/4 inch thickness.

Immediately place gummy candies on top and gently press into the chocolate.

Cover the rest of the chocolate with sprinkles.

Let it set at room temperature for 30 minutes before cutting with sharp knife.

Store in an airtight container for up to 1 week.
*Originally published January 2017