I don't even know how to express what joy and glee I've felt from this one recipe. Not because it's so delicious (because it truly is), but from the response I've gotten from posting it last year.
It's my Sweet Chicky Nugget recipe! Pinterest and Pinterest users like me (who are highly addicted and loving every minute of it) have brought this recipe to life with a click of a button.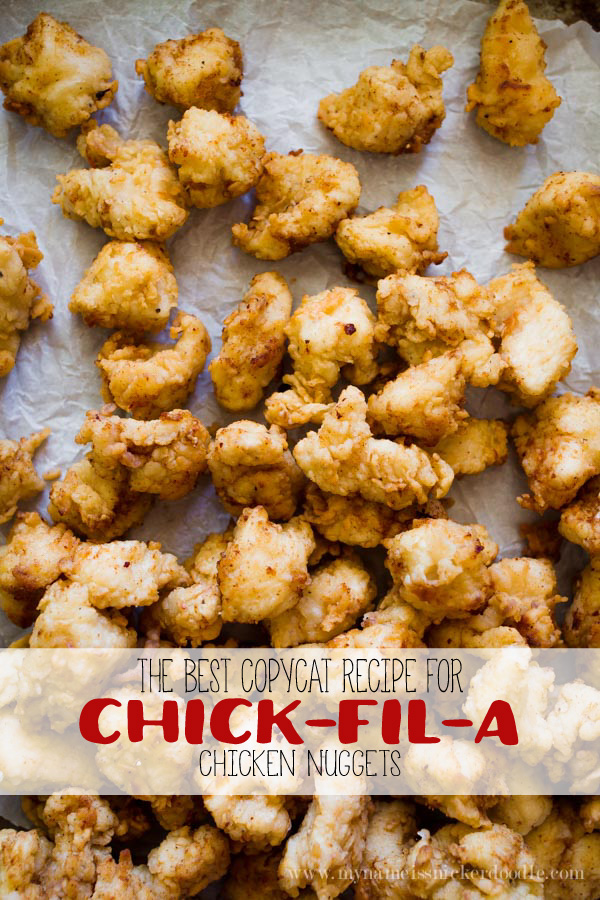 So yes, today I am reposting this infamous recipe, but I'm going to answer a lot of the questions that I've gotten in comments and emails about it.
*Can I bake these instead of fry them?
I've never baked them myself, but a few of my readers have and were not happy with the results. If you have baked them and liked how they turned out, I would love it if you would share with us what you did. I know that frying them is not so healthy, but the trick with frying is getting your oil to the right temperature. You don't want it too high or else you will burn the outside leaving the inside uncooked. And if your oil is too low in heat, all your chicken will do is soak up that oil leaving you with a greasy mess. As for all the splattering some of you are concerned with…make sure your pot is deep enough to hold about 2 inches of oil plus plenty of room at the top where it's not bubbling over. Plus wearing a cute apron seams to help not getting it on your clothes!
*Can I substitute some of the ingredients for a more healthy or gluten free version?
Again, I've never done this, BUT many of my readers have tried this and have had great results. Some substitutions might be egg beaters, almond milk or Silk, gluten free flour, wheat flour, Stevia. This being said, it will alter the taste from the original recipe and might not taste similar to the "Not Cow Place".
*Pickle juice, pickle juice, pickle juice?!?!
So many of you have commented that you've heard the nuggets are marinated in pickle juice. Well, I consulted one of my best friends, Julie, about this mystery. When she and her husband were first married, they traveled around to multiple Chick-fil-as to bring up their sales, help out with management and get the store up and running to Chick-fil-a standards again. Here's the scoop…the nuggets are NOT marinated in pickle juice. BUT, the strips are marinated in dill pickle juice. And not for long 20-30 minutes. She also informed me that the chicken for the nuggets that is delivered to the store is already seasoned. They just dip the nuggets into an egg/milk wash then into their dry mixture (which is also pre-mixed and shipped). So, they do not marinate their chicken the egg/milk mixture. I like to do it because I feel it makes them completely tender.
*Is the peanut oil really important?
I know that peanut oil is really expensive. I've bought a little bottle of it purely for this recipe and it was definitely worth it. HOWEVER…these nuggets are just as good fried in canola or vegetable oil. One reader tried using coconut oil and said they didn't get brown at all. The reason for canola or vegetable oils is they have a higher burn factor hence getting food light to golden brown.
I just wanted to thank you for the hundreds of thousands hits (literally) to my blog now. Cooking is one of my passions as well as crafting so, I am so excited where I'm taking my site to this year! I hope you enjoy it, too!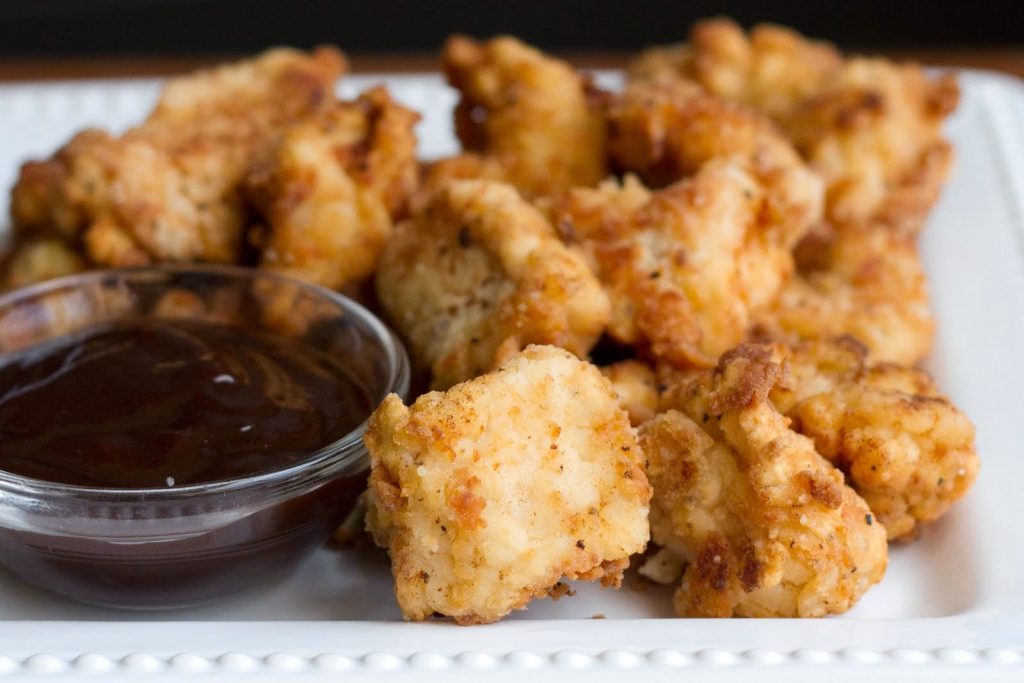 Sweet Chicky Nuggets
Printable Version

2 skinless and boneless chicken breasts
1 cup milk
1 egg
1 1/4 cups flour
2 TBSP powdered sugar
2 tsp salt
1 tsp pepper
peanut oil (is best) or canola oil
In a medium bowl whisk the egg and stir in the milk. Trim any fat away from chicken. Cube chicken into bite size pieces. Place chicken in milk mixture,and cover. Let it 'marinate' for 2-4 hours in the fridge. This will make the chicken very nice and tender. In a gallon size resealable baggie combine flour, powdered sugar, salt and pepper. Seal and shake to combine. Place about 2 inches of oil in a medium deep pot. Over medium high heat (more towards the high side) heat oil until hot. If using a thermometer let the temperature reach 375°. If you don't have a fancy gadget like most people, I always test my oil by dropping a few drops of water into it. You want it to sizzle and not pop too much. Adjust your heat if necessary. Using a fork or tongs remove cut chicken from milk mixture and place in the flour mixture. Seal and shake until nuggets are completely coated. Place about a 6-8 nuggets into hot oil and let them cook until golden brown, turning half way through once the edge of your chicken starts to turn white. About 1 minute each side. Always double check to see if any chicken you make is cooked through. I always just make a tiny cut to see if it's pink. Remove and drain on a paper towel. Repeat until all nuggets are cooked. Serve with your favorite sauce! I will let you in on a secret that only my bestest friends know…I ALWAYS eat my nuggets with honey! Always.