I am so positive that every one of you has had funeral potatoes and most of you even have your own recipe for it. BUT, just in case just one of you is boggled by the "mystery" of this humble yet delicious dish, here is a recipe for you!
*My in-laws mocked me for taking this picture before Easter dinner…none of then blog so whatever to them!
Funeral Potatoes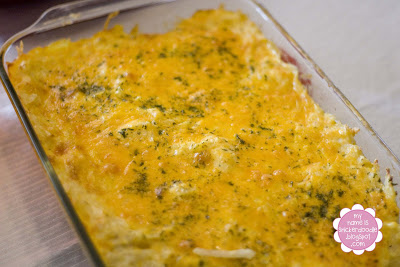 1 26 oz bag frozen shredded hash browns, thawed
2 cans cream of chicken soup
1 1/2 cups sour cream
3-4 cups grated cheddar cheese (or use a blend of cheddar and mozzarella)
pepper
Preheat oven to 375. Mix together potatoes, soup, sour cream and 3 cups cheese. Add pepper to taste, I usually use about 2 tsp. Pour into lightly sprayed 9×13 pan. Sprinkle remaining cheese over top. Sprinkle with parsley flakes if you are feeling fancy. Bake for 30-40 minutes, until lightly golden brown and bubbly.
*As I was typing up this recipe, I was thinking it would be yummy to maybe add some green onions and cooked crumbled bacon into the mix…if you wanted to be really evil! You can also add a bread crumb mixture (1/4 cup melted butter mixed with 1 1/2 cups bread crumbs) over the top…throw your scale out the window!!!
I thought I would just throw in here a sweet side dish…or dessert if you like! I had this recipe for the first time at my last scrapbook retreat in my old neighborhood. I got it from Amber, but I think she might have gotten it from another friend in our church. I don't have a picture of it, but believe me…you will want to make it!
Jello Salad
1 lg package vanilla pudding COOK kind NOT INSTANT
1 lg package jello (strawberry, orange or raspberry)
1 8 oz cool whip
Your choice of fruit to match the flavor…you can use frozen strawberries or raspberries and mandarin oranges
Use water instead of milk (use the same amount as directed on the box) to make the pudding. Bring to a boil and stir in jello powder until dissolved. Pour into a bowl and chill in fridge until cooled and set. About 1-2 hours. Beat with an electric mixure to "break it up" Add in cool whip and beat again. Stir in fruit and chill until ready to serve.