I am a go-by-a-recipe girl. I don't have to follow it exactly, but I need a starting point. I am not a let's-see-what's-in-the-pantry-and-make-something-up kinda girl. I envy those women. This recipe, however, is my one exception. A few months ago, I pulled this together and now it's an easy keeper!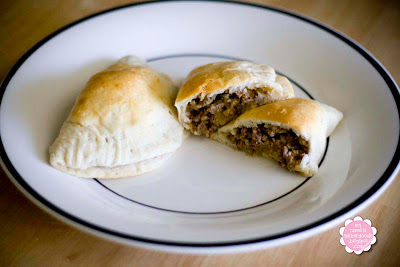 Cheeseburger Pockets
1 lb. ground beef
1 cup shredded cheddar cheese
1 tube Grands Biscuits
Brown beef and drain if necessary. Take off burner. Add in cheese and mix until melted. Set side.
Preheat oven to 350º. Roll out each biscuit until thin. Place about 3 large TBSP of meat onto center. Fold in half and seal edges with fork tines. Place on a greased cookie sheet. Bake for 12-14 minutes until golden brown. Dip into mustard and ketchup.
*The last time I made this dish, I thought of these fun additions…Substitute cheddar cheese for pepper jack. Add a couple dashes of A1 sauce to the meat if you like that flavor. You could also sprinkle some chopped onions on top of the meat before you fold over the biscuit.
Thank you, Aunt Ellen, for changing my life with this recipe! Okay, that was little dramatic, but I love that these cookies are simply easy and simply delish!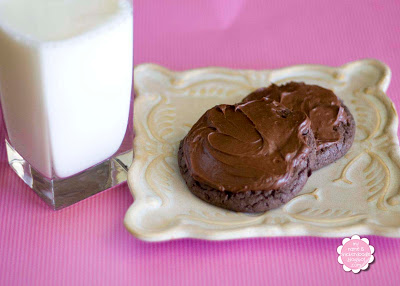 Cake Mix Cookies
1 cake mix (I used triple chocolate for the cookies in the photo)
1/2 cup oil
1/4 cup flour
2 eggs
Lightly whisk eggs and oil in a bowl. Mix in flour and cake mix until well blended. Roll into 2 inch balls and bake at 350ºfor 7-9 minutes on an ungreased cookie sheet. For really soft cookies, omit flour.
*So, of course, I have to have some extra tips for all the recipes. I had some leftover frosting in a tub that I "embellished" these cookies with. In the past when I have made these cookies, I have taken two chocolate cookies and sandwiched them with German Chocolate frosting. You could also use Cherry Chip mix and then use vanilla frosting. Sticking with the chocolate cookie you could also use this frosting to spunk them up a bit! So many possibilities! You can also make it easy on yourself and use a 2″ ice cream scoop to help with uniformity.