Halloween Desserts and Treats are so fun to make! And you know me…I love anything that has Googley Eyes on it! I've included all of my best recipes that use my favorite candy eyes.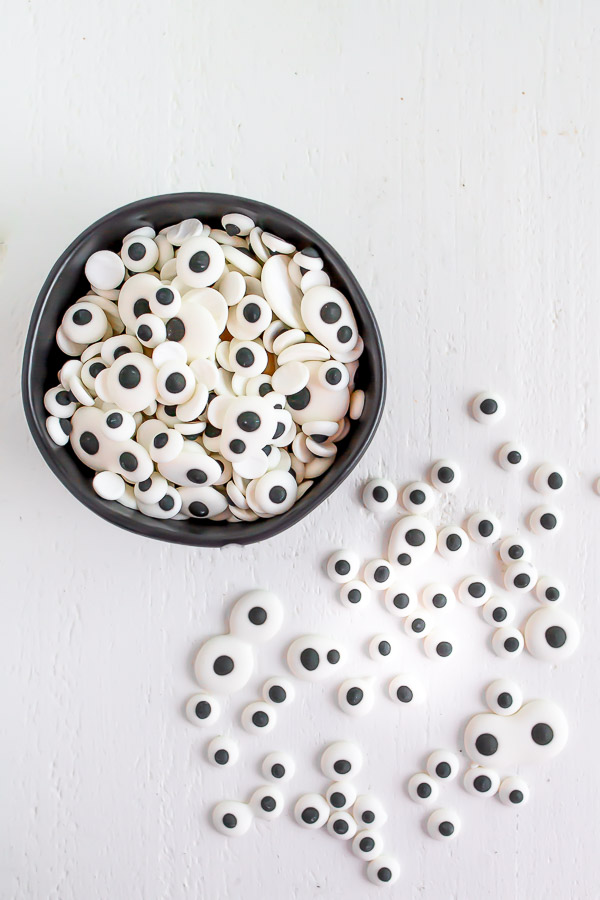 The first think you will need is this recipe to make your very own Googley Candy Eyes. They are more simple to create than you think!
Mummy Brownies might just be my new favorite Halloween dessert! A chewy brownie full of chocolate flavor topped with a homemade butter cream frosting. All decorated to look like a spooky Halloween classic monster!
My boys love these Trick or Treat Pancakes! Make a big stack of these for your family to have Halloween morning. Or really any other day of October. I simply scatter a few candy eyes on top to make them festive!
Halloween Bat Ding Dong Treats are a no bake treat that anyone can put together.  They are completely adorable and perfectly sweet!
Monster Peanut Butter Cookie Bars might just be the perfect Halloween treat! This easy recipe is super simple to make, but creates the biggest impact for a spooky and fun dessert. It is a chocolate chip cookie base and dotted with candy eyes, of course! The ghoulish feature is the festive green peanut butter cups pressed into the freshly baked cookie bars and then embellished with more candy eyes.
These Skewered Eyeballs are a wonderful way to be more creative this year with the Halloween season and surprise your family with little tricks and treats along the way!
Mud Monsters are a fun after school snacks that are festive and a huge hit!  And they truly could not be easier.  These would be for a last minute treat to take to a party or make Halloween night!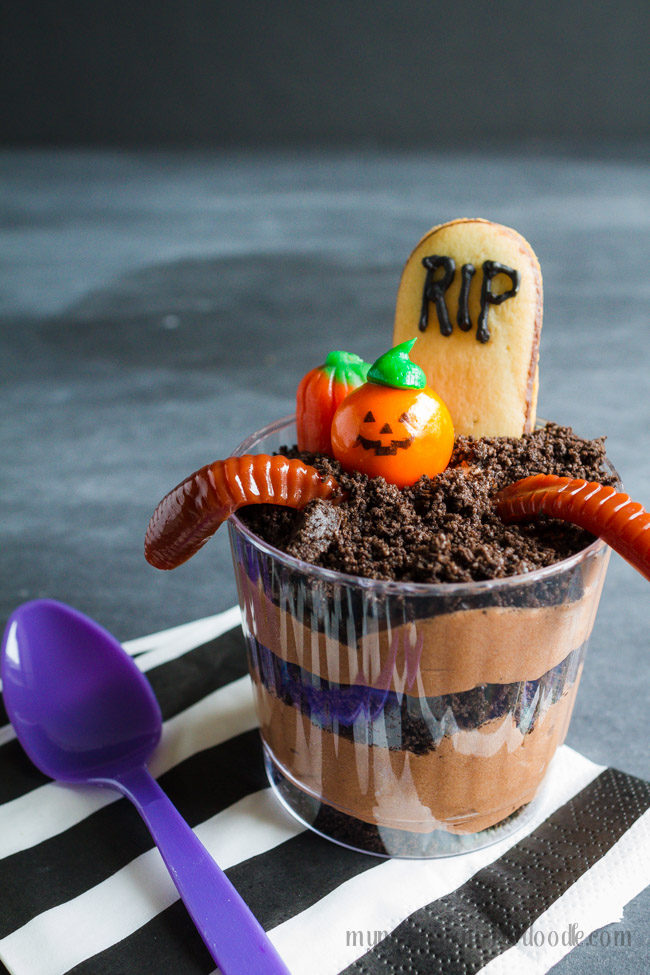 Graveyard Pudding Cookie Cups have become such a classic Halloween dessert.  These individual cups are filled with cookie crumb dirt and a creamy center created with chocolate pudding. Each of them are embellished with a cookie tombstone and candy pumpkin. They would be a great after school treat or holiday party!
If you kids are like mine, they love marshmallows.  Any shape and size. They are not picky.  I always seem to have a bag in the pantry and use them as bribery sometimes.  You'd be surprised how quick they are to clean up their room when I pull out that bag of airy treats! Make these Halloween Marshmallow Pops with your kids and see their faces light up!
Monster Munch has become such a classic easy treat to make! You really can add any fun candies you want to the popcorn. Just don't forget the candy eyes!